Nintendo Switch Pro Controller Price: Cheaper option incoming, but it has some drawbacks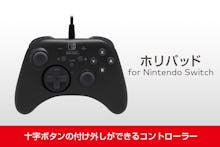 We're not impressed with the prices of Nintendo Switch's controllers. Extra Joy-Cons cost $79.99, Nintendo's Pro Controller costs $69.99 and none of your old controllers work with the Switch. Even stellar games like Mario Kart 8 Deluxe weirdly limit which Switch controllers you can use. 
Luckily, a cheaper version of the Nintendo Switch Pro Controller is coming to the rescue.
Nintendo Switch low-price Pro Controller: The good news
According to the company's Twitter, Hori will bring us their take on the Nintendo Switch Pro Controller, and it comes with some big pluses. For one, the controller costs much less, at 3,218 yen, or around $28.80. Here's how it looks:
For your 30 bucks you get all the buttons you'd find on Nintendo's Pro Controller. As a bonus, the Hori version comes with a swappable D-Pad. Like Nintendo's Pro Controller, players are offered a proper directional pad, but can change to the Joy-Con style separated direction buttons when needed.
As shown in Hori's tweet, the proper D-Pad attaches to the back of the device when not in use.
But it's not all sunshine, rainbows and comfortable Switch gaming. The cheaper Nintendo Switch controller comes with a few drawbacks.
Nintendo Switch low-price Pro Controller: The bad news
In addition to being a non-Nintendo, third-party option, the Hori controller is wired by default. So if you're looking for a comfortable wireless experience when playing Zelda or Mario Kart, Nintendo's Pro Controller option is the one for you.
Along with the tether to your console, the Hori controller will not contain a gyroscope or offer NFC, according to Nintendo Everything. This means that you won't be able to do motion control aspects of games, like aim in Splatoon 2, or complete certain shrines in Breath of the Wild. Say goodbye to scanning amiibo using your Pro Controller, as well.
The trade-offs are tough, but it may be worth it to you if you're looking to get two Switch controllers for the price of less than one. Games that rely on motion control may be less appealing for Hori buyers, but the option to play those moments in handheld mode is available. 
Let's hope Nintendo takes the competition personally and puts out a less expensive wireless option for us pros, too.
Check out more Nintendo Switch news and coverage
Looking for more Nintendo Switch news? Check out how blind gamers are using the Nintendo Switch and why you can't get your Mii to look quite like you. Nintendo's left Joy-Con issue turns out to be a hardware problem — here's how to solve it. Find out how to buy a console amid the recent restock. Learn why the Switch cartridges taste so bad. Check out our comparison photos sizing up the Switch to the Wii U GamePad (part one and part two), or find out how to make use of ethernet without the dock and the best way to get alerts when new stock arrives.