Best banks and credit unions for millennials: Top checking and savings accounts to grow your cash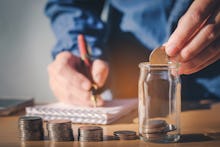 Some banks understand what millennials want for their money, while others still don't. Giving away a toaster with that checking account to woo customers simply doesn't fly with younger savers.
In fact, a giveaway by a bank can be a red flag to millennial savers, who simply want a trustworthy financial institution that will help them grow their nest egg and won't try to lure them in with a marketing gimmick.
"They have reason not to trust [banks]," Max Levchin, co-founder of PayPal, said to the Fox Business Network. "If you look at something like a deferred interest product where it's truly too good to be true and you get caught off guard and suddenly you owe almost twice as much as you thought you would, you find yourself going 'wait a second, I thought I was getting a great deal and now I'm in debt and I might be in debt forever.'"
Savvy savers understand that choosing the right bank or credit union is vital to getting ahead, not behind. Good news: Fresh data published Thursday by Kiplinger lists some of the best banks and credit unions for just about everyone, including millennials.
"When it came to identifying the best banks for millennials we considered national banks but also online banks and credit unions because millennials are pretty mobile and are more comfortable using online or mobile banking," Miriam Cross, a staff writer at Kiplinger, said in a phone interview.
Kiplinger used data from financial research and consulting firm Moebs Services to rank banks, which were screened based on asset size, excess fees, high expenses and sufficient capital. Based on Kiplinger's assessment, plus previous reporting published by Mic, here's a list of some of the best bank and credit union savings and checking accounts for millennials.
…and the winner is:
Ally Bank
Known for its straightforward product offering and its lack of hidden fees, Ally Bank was Kiplinger's top pick. Most importantly, being an internet-only bank allows customers to save even more with a savings account yielding 1.05%, regardless of your balance. The money market account yields 0.85% on all balances, and it even comes with a debit card and free checks.
While most checking accounts pay close to nothing, Ally pays you 0.10% on balances under $15,000 and 0.60% for higher balances. The bank also offers free withdrawals at any Allpoint network ATM and will rebate up to $10 a month on out-of-network ATM charges. The bank's online profile is solid, too, being responsive to Facebook messages and offering Popmoney, which allows you to send and receive money using a mobile number or email address.
Other top-ranked banks to consider:
Bank of Internet
Fee-free checking dominates the menu at Bank of Internet, along with rewards-based accounts like CashBack Checking, which gives customers 1% cash back for debit card purchases; Rewards Checking, which pays you up to 1.25%; and the Platinum Checking account, which pays 0.71% on balances of $5,000 and higher. 
Savings accounts pay 0.61%, and a money market account yields 0.75%. Looking for long-term growth? Bank of Internet's 60-month CD pays 1.50%, and you only need $1,000 to open one. Being an Internet-only bank means you'll have plenty of online options, including a mobile app that allows you to make remote deposits, transfer funds and track account history.
Aspiration
Aspiration CEO Andrei Cherny argues customers should not be paying their bank: "When they think about a bank account, a lot of people fall into the trap of thinking this is something a bank is providing for me and I should have to pay for it," Cherny told Forbes. "People really should expect more out of their bank accounts."
Aspiration customers with the Summit Account get 1% on any balance, and instead of a fee schedule, the bank lets the customer decide how much they'd like to pay for account maintenance. The bank also participates in "Dimes Worth of Difference" and donates ten cents to every dollar of the company's revenue to charities.
Northpointe Bank
For the ultimate payoff, check out Northpointe Bank's Ultimate Account. You'll potentially be able to earn an above-average amount of interest — 5% on balances up to $10,000 — and there's no monthly fee. You are even reimbursed up to $10 a month for foreign ATM fees, plus a $3 monthly reimbursement for peer-to-peer payment fees.
Charles Schwab Bank
If work frequently takes you on the road, Charles Schwab offers a top-rated mobile app that lets you track and interact with funds 24/7. Plus its High Yield Investor Checking account allows you to bypass foreign ATM fees, and you'll earn 0.13% on any balance. You'll need to also open a Schwab One brokerage account, but the bank doesn't charge dormant account fees so if you don't use it, there's no penalty.
Capital One
Another great bank for travelers, Capital One's 360 account waives all fees worldwide and imposes no transaction fees on domestic or international debit purchases. The 360 checking account is free, but Capital One tosses back a bit of interest: 0.20% on checking and 0.75% on savings depending on balances. The bank also has a solid fraud protection system that allows you to temporarily lock your debit card in case of theft.
Top-ranked credit unions:
Langley Federal Credit Union
Savers can choose among four checking accounts to meet specific needs, three of which are free. Langley Federal Credit Union money markets offer 0.05% on as little as $100 up to to 0.50% on balances of $100,000 or more. Many savings accounts are also free, and you only need $100 to open in order to earn 0.05%. Members also have access to a number of free Allpoint ATMs.
Connexus Credit Union
Connexus Credit Union Xtraordinary Checking members receive $25 a month in foreign ATM fee reimbursement, plus 1.75% on balances up to $25,000 for members who have direct deposit and make at least 15 debit card transactions per month. The MyRewards account is also popular where members need to meet fewer requirements and earn 1.35%. Money market accounts are free with rates up to 1.15% on balances over $1,000. Certificates pay a healthy rate of 1.5% for one year, 1.70% for two years and 2% for three years on balances starting at $5,000.
Alliant Credit Union
Great for students, per Kiplinger, Alliant Credit Union offers a Teen Checking account that pays 0.65% to members who sign up for e-statements and make at least one electronic deposit per month. Alliant also offers ATM rebates of up to $20 per month. Once you turn 18, the account automatically converts to the credit union's free, no-interest account.
First Tech Federal Credit Union
Check out First Tech Federal Credit Union's Dividend Rewards Checking account if you are looking to earn 20 times the national average in interest. Paying 1.58%, the account also earns rebates at out-of-network ATMs. No minimum balance or monthly fees here either.
Lake Michigan Credit Union
How does earning 3% on your checking account sound? Lake Michigan Credit Union's Max Checking allows you to make bank on balances up to $15,000, and this account has no minimum balance requirement, plus free ATM use. To earn the interest members must have direct deposit, a minimum of 10 debit card purchases per month, minimum of four logins to home banking per month and sign up for e-statements.
Sign up for The Payoff — your weekly crash course on how to live your best financial life. Additionally, for all your burning money questions, check out Mic's credit, savings, career, investing and health care hubs for more information — that pays off.