Body language experts can't agree on Trump's latest awkward handshake with a world leader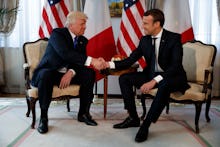 President Donald Trump has a lot to learn about handshakes with friends, according to at least one renowned body language expert.
The president and French prime minister Emmanuel Macron met in Brussels on Thursday on their way to a NATO summit, engaging in what seemed like a lengthy stare down and a stern handshake in front of reporters.
Some reporters at the meeting suggested the greeting was contentious.
Body language expert Dr. Linda Glass, who has criticized Trump's overbearing communications style previously, said that she doesn't detect any nonverbal war of wills going on between the two world leaders.
"The reason it lasted so long is kind of a good sign," Glass said. "I think it was for the photo op. It shows they're both connected to one another."
Glass added that both Trump and Macron "showed strength" during the exchange.
"One didn't cower away," she continued. "If you look at the muscles on their hands, they were both tight. They were both very strong. They were both kind of on equal footing in this case."
Fellow body language expert Joe Navarro sees things differently.
Navarro is a retired FBI counterintelligence and counterterrorism operative and author of the 2008 book, "What Every Body Is Saying," which breaks down the ins and outs of effective non-verbal communication.
"I can't remember any time in history where so many cameras were trained on a handshake," Navarro said, "and the only reason is because of the things President Trump has done in the past."
Navarro, who says he once trained FBI agents on how to read non-verbal cues over his 40-year career, said President Trump doesn't seem to understand the intended purpose of handshakes.
"Diplomacy is about getting along," Navarro continued. "One of the things we do with our handshakes is we establish comfort. We're saying, 'I'm your friend. I'm the person you're going to be working with.' That's what the handshake is supposed to be for, not some sort of sophomoric challenge between two alpha males."
Trump's awkward handshake history
This is far from the first time President Trump has given a seemingly-awkward handshake with foreign leaders.
His Feb. 10 palm press with Japan Prime Minister Abe Shinzo lasted 19 seconds and included a couple pats on the back of Shinzo's hand, prompting a strange, wayward glance from the Prime Minister.
Trump ignored reporters' request to shake German Chancellor Angela Merkel's hand when the two met in the White House back on March 17. 
Navarro said Trump's notorious pulling and firm grip during handshakes is mostly frowned upon globally.
"The concept of giving a strong, firm handshake is really very western and very American," Navarro said. "If you go to Sweden or Germany, the handshake is just that. It's not this aggressive thing that we have in the United States."
But Dr. Glass said the president's body language issues are often being blown out of proportion.
"He's kind of a very warm kind of person in the sense that he outwardly displays his affection," she added. 
That might explain some of President Trump's rebuffed PDA attempts with the first lady. On Monday, Mrs. Trump slapped her husband's hand away when he reached to hold hers after their arrival in Tel Aviv.
Fellow body language expert Patti Wood said the nonverbal exchange may have happened because the first lady felt her husband was treating her like a child.
"It's more about, 'come along now,' and she's swatting his hand away as a child would, from the top down, saying 'don't lead me'," Wood said Monday. "It's not a bid for affection by him, it's more like 'come along.'"
At age 70, Trump comes from an old fashioned, U.S. business world that Navarro said teaches some that handshakes are about establishing dominance, but if that's the president's aim, Navarro recommends a different approach.
"You meet the other person's hands and at that moment when you shake you realize what the adequate pressure is, but no more," he said. "If you're going to establish supremacy, do it with your words and intellect, not your body. That's what Winston Churchill did, and he had the lightest of handshakes."