Federal court strikes down Muslim travel ban and people on Twitter are rejoicing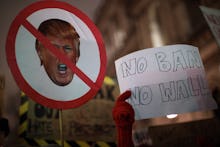 The Constitution won again.
In a 10-3 ruling, the 4th Circuit Court of Appeals upheld the blocking of President Donald Trump's Muslim travel ban on Thursday. 
The travel ban, second of its kind, was an executive order Trump signed on March 6 that implemented a 120-day ban on all refugees entering the United States. The order also included a 90-day ban entry on all national citizens from six Muslim-majority countries: Iran, Libya, Somalia, Sudan, Syria and Yemen.
Chief Judge Roger Gregory wrote, on behalf of the majority vote, that the order "drips with religious intolerance, animus and discrimination." 
The American Civil Liberties Union, the organization leading the legal fight against the bans, announced their victory on Twitter:
And like clockwork, tweets praising the ruling flooded Twitter's timeline: