'Drag Race' alum Trixie Mattel on how reality TV snatched drag's wig, leaving it bald and boring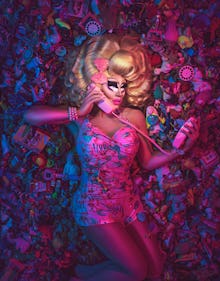 Some of the best drag queens in the world will never appear on RuPaul's Drag Race, and some of the worst drag queens in the world might win the coveted crown. This to say that Drag Race, despite its cultural dominance as the sole purveyor of mainstream drag culture, is but a swatch in the much larger fabric of drag — an art form that dates back as far as the 19th century.
Trixie Mattel first appeared – then reappeared – on Drag Race's seventh season in 2015, becoming a quick and vocal fan favorite. The show's conclusion (she placed sixth) proved only her beginning. Soon after the season wrapped, Mattel put out a web series UNHhhh, which she cohosts with her fellow season seven queen Katya, and her debut folk album Two Birds, released earlier this year. 
But less visible is her deeply considered perspective on drag culture and her incredibly articulate thoughts on the impact — both positive and negative — that the show that catapulted her into mainstream consciousness is having on an art form she loves so dearly.
Below, an unfiltered chat with Trixie Mattel on the current state of drag.
Mic: Is the perception drag as an art form changing as a result of drag culture moving from sub to mainstream?
Trixie Mattel: Certainly. It's changing from something that's perceived to be only for gay people at 1 a.m. at a gay bar on Monday to something as digestible and enlightening as any theater or costuming. Especially in a time like now, any opportunity for a man to put on a dress is an act of protest.
It's like any art form, whereas in the beginning you're just following your little voice. You're not sure exactly what you're doing; you're just throwing darts. The way I perceive it now, it's fucking hard. You have to be a good artist to do drag. You have to be deliriously hard-working. You have to be a little bit good at everything. 
Fans now seem to feel weirdly entitled to critiquing the work of drag queens. How do you deal with criticism?
TM: Drag used to be about celebrating. Someone would get in drag and you would celebrate that there was a drag queen, no matter what level of drag they do, no matter how much time they spent putting into it. Fans now feel like they know about drag because they've seen a TV show — which is like saying you know about cooking because you watch Top Chef. Fans' perceptions of drag and their thresholds for how perfect it needs to be to be considered good are pretty unrealistically high. 
Drag has lost its edge. It used to be more special; it was people's best kept secret. Now it's sort of been neutered for television. People come to my shows all the time and don't seem to realize how dark and gross and vulgar and heavy and how political drag gets, because they've only seen the Disney version of it on TV. Drag Race is one facet of a huge subculture that existed before reality television and will exist after. 
What does drag lose, if anything, by going mainstream?
TM: Drag loses mystery. Too often now, when I'm at a gay bar, I feel like I'm at Chuck E. Cheese. The respect for drag is higher, but the respect for the individual performer — unless they're a Drag Race queen — is lower. Because the perception is unless you're a on Drag Race you're not good. So it's a very strange transition for drag right now and I don't think all of it is positive.
Local drag queens are getting more unhappy. Some drag queens, like Jackie Beat and others doing this in a way in which they helped shape modern drag 30, 40 years ago, now they're like, "Wow, I'm getting older and less people know my name and new audiences only know Drag Race queens." Audiences ignore everyone on the lineup until the reality TV drag queen comes on. Drag used to be more that you were famous within your city, within your bar because of word of mouth. Then TV came along and made it look cool, which it is, but now people think drag is more about being a persona like a Real Housewife.
But on the flip side, people are so exposed to drag that I think the cream really does rise to the top. But that's true of any facet of the entertainment industry.
What about what happened earlier this season with regard to Aja being clocked for her makeup abilities. Is the criticism ever tangential to drag's purpose?
TM: Not really, because the whole point of drag is watching and saying what you thought of what you just saw. If you go on Drag Race and you're upset that people had opinions about you, that's a little crazy. You have to be deliriously into yourself. I have some of the most intense, crazy, controversial-iest makeup there is. You have to be really, really solid and cement your artistic choices, and then whether or not someone likes your look becomes irrelevant. 
If you're on Drag Race, you're vying for the opinion of five people. What I've found is that you'll get the harshest critiques before you lose. Once you lose, the negativity slowly goes away. 
Reminds me of Hillary Clinton in a sense.
TM: Absolutely! And at the end of the day, people are barely fans of yours, they're fans of Drag Race. You're a small piece of a moving puzzle. And it becomes more of a thing after Drag Race as you try to give the audience a reason to love you for you. As a real drag queen, I'm obviously exposed to more drag than most people, so I'm not going to judge a drag queen solely off of what I see when I meet them.
Is Instagram good for drag?
TM: Instagram is great for drag! There's cases like Aja, where you fully misrepresent what you look like and you have to answer for it when people see you in real life, but part of what Instagram is is a visual art form. Like my close friends Kim Chi and Pearl both were Instagram famous before the show because they are pretty to look at. 
Again, if you just like drag queens that are pretty and you like somebody to look at, Instagram is a great way to do it. Instagram and social media are talents within themselves. Just look at [how] New York drag queen Biblegirl has created a career from her antics online.
Has drag become too focused on beauty and aesthetic?
TM: Let me say this: If your taste is that you like pretty drag queens, then absolutely fine. I love pretty drag queens. Oh my God, Farrah Moan, I could just stare at her all day — obsessed. But it's important to know that would a drag queen looks like is only a small part of them as a whole. It's a fully realized character. When you're seeing a drag queen, you're seeing a lot of artistic choices. Not everybody wants to look like a beautiful woman. And the sooner you get in touch with that, it's almost like this whole other part of drag opens up to you. 
Some of the best performances might not necessarily be the most polished-looking, so openness is really important. When you're seeing a drag queen, you're seeing a lot of artistic choices. Not everybody wants to look like a beautiful woman. And the sooner you get in touch with that, it's almost like this whole other part of drag opens up to you. 
We hear a lot of talk on Drag Race of various types of drag queens — body queens, comedy queens, pageant queens, makeup queens, etc. How do you break down the various types of drag?
TM: At this point, there is two types of drag queen: drag queens who are the bread and butter of drag, put on the dress, do the lip sync, etc. and then there are others of us who are artists that happen to be drag queens. Like for me, I'm a comedian and a musician. The look supports the work, but the look isn't the work. People like Coco Peru — she's a monologist and her drag sort of supports that — or Ryan Burke, who's a visual artist who creates these looks on his own body — he's sort of like a mixed media artist, but his medium is his body. 
For me, I use the visual of Trixie, this kind of child's toy, to support the kind of comedy that I do. You could consider me a makeup queen because my look is very strong. You could consider me a body queen because I wear bigger pads and a tighter corset then everybody around me. You could consider me a comedy queen because of the humor. I have a top album, so you could consider me a talent queen too, I guess. It depends who you look at and what about them impacts you. And that's the label you put on them more than what they actually are.
Name five queens that you feel best define the form.
TM: Oh my God. Lady Bunny. Dina Martina. Alyssa Edwards. RuPaul. Christeene.
To see more of Trixie plus other Drag Race alums, check out Jeremy Kost's new mixed media photographic series, Like One of Your French Girls.