Get ready because NOAA is predicting an above-average hurricane season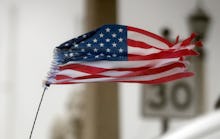 On Thursday, the National Oceanic and Atmospheric Administration announced that the Atlantic could see another above-normal hurricane season this year.
In a statement, NOAA explained that its forecasters predict a 45% chance of an above-normal season, a 35% chance of a near-normal season and just a 20% chance of a below-normal season, which runs from June 1 through November 30.  
According to the NOAA forecasters, there could be between 11-17 named storms, which only qualify for naming if winds are 39 mph or higher. Of those, an estimated 5-9 could become hurricanes, including 2-4 major hurricanes, which means winds would be at or above 111 mph. That's potentially far greater than the average hurricane season, which produces 12 named storms.
And, rather unusually, the 2017 hurricane season has already begun, thanks to Tropical Storm Arlene, which is only the second April storm in the satellite era, according to Scientific American.
"The outlook reflects our expectation of a weak or non-existent El Niño, near- or above-average sea-surface temperatures across the tropical Atlantic Ocean and Caribbean Sea, and average or weaker-than-average vertical wind shear in that same region," Gerry Bell, Ph.D., lead seasonal hurricane forecaster with NOAA's Climate Prediction Center, said in a statement.
In a press conference Thursday, Mary Erickson, deputy director of the National Weather Service, explained that the increased accuracy of hurricane forecasts is a direct result of investments into improving models, Scientific American reported.
As NOAA explained, the upgraded Hurricane Weather Research Forecast model adds "better representation of storms at higher vertical resolution, and has advanced data assimilation and improved physics." With the upgrades, NOAA added, it can improve forecasts by as much as 10%.
In addition to improved models, NOAA also said its National Hurricane Center will be providing a plethora of new forecast and communication tools including a new experimental visualization tool allowing the public to easily see when damaging winds are forecasted to reach their community and a new hurricane track cone graphic, to help people get a better understanding of how hurricane and tropical-storm-force winds really work.
Alerting the public of potentially harmful storms and educating them on exactly how they work could prove incredibly beneficial in saving and protecting lives.
"Regardless of how many storms develop this year, it only takes one to disrupt our lives," Acting FEMA Administrator Robert J. Fenton Jr. said in a statement. He noted that being prepared for hurricane season should start now with having a family discussion about what you will do in case of an emergency. He added, "Know your evacuation route; tune into your local news or download the FEMA app to get alerts, and finally – listen to local authorities as a storm approaches."
And all this incredible technology from NOAA may be worth protecting from President Donald Trump's proposed budget, in which he calls to drastically cut the agency's climate research budget, including a 17% cut to its weather-satellite budget, according to the Atlantic. And as Accuweather reported, even with improved satellite technology and modeling, an Atlantic hurricane that hits land in the United States costs $1.8 billion. That number doesn't even include the damage a storm inflicts once it moves inland.