Astronaut John Glenn's remains may have been desecrated, according to the Pentagon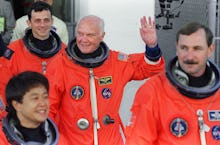 Pentagon officials are investigating whether or not a senior mortuary official offered to show legendary astronaut John Glenn's remains to military inspectors, according to a report obtained by the Military Times.
Mortuary branch chief William Zwicharowski of Dover Air Force Base in Delaware is being accused of offering inspectors a peek at Glenn's body on Feb. 28 and March 2 while it was in his care, the Military Times reported.
Glenn died on Dec. 8 at age 95. His family gave his remains to Air Force personnel to look after before laying him to rest with full military honors at Arlington National Cemetery on April 6.
The "troubling" and "shocking" allegations were made in a May 11 memo drafted by Defense Department Director of Casualty and Mortuary Affairs Deborah Skillman, who said she was present when the alleged events occurred.
"This offer to view the remains was also made in the presence of, and observed by, junior personnel on the Dover Mortuary Branch staff," Skillman wrote in her memo to military investigators, adding that she and the other inspectors declined Zwicharowski's offer, according to the Military Times.
"Even after Mr. Zwicharowski was counseled by his chain of command regarding the inappropriate nature of his earlier offer, he repeated it," she added. "This breach of protocol is serious and troubling as these offers were made to members of an official Department of Defense inspection team on-site to inspect the facility and determine whether it was in compliance with applicable procedures and policy and being well-run by its leadership."  
Zwicharowski hasn't publicly responded to Skillman's allegations. In her memo, Skillman wrote that Zwicharowski made comments suggesting he thought she was retaliating against him for blowing the whistle on a Port Dover Mortuary scandal six years ago.
In 2011, Zwicharowski exposed how the mortuary previously had mishandled the remains of some fallen service members who died during battles in Afghanistan and Iraq, according to USA Today.
John Glenn was one of NASA's first astronauts and was the first American to orbit the earth. The decorated Marine Corps veteran also served in the U.S. senate from 1974 to 1999.