'Kingdom Hearts 3' Release Date: 'KH 3' and 'Final Fantasy 7 Remake' expected by 2020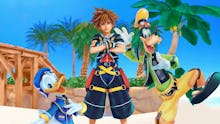 Kingdom Hearts fans looking to see Kingdom Hearts 3 out in a timely fashion will likely be pretty disappointed by the latest news about the series' third core installment. 
According to a statement from Square Enix CEO Yosuke Matsuda (via Gematsu), both Kingdom Hearts 3 and Final Fantasy 7 Remake are due for release within the "next three years." 
Kingdom Hearts 3: When to expect the game 
This information comes from a slide Matsuda introduced during a presentation on financial briefings for the company.
"This slide shows our release lineup for FY2017/3 as well as for FY2018/3 and beyond. We plan to launch each of these upcoming titles in the next three years or so."
Little information has trickled out about either game in the last year beyond an errant screenshot or unsubstantiated rumors, so this news isn't all that surprising. This projection puts both Kingdom Hearts 3 and Final Fantasy 7 Remake out by 2020, which is admittedly bad news for hardcore fans looking for a more firm release date. 
Interestingly enough, in the same column as Kingdom Hearts 3 and Final Fantasy 7 Remake is the "Marvel IP License" we saw teased in January. That's three different fan bases that are unfortunately going to have to settle in for a while, since it looks like it's going to be some time before anyone gets to play these games. 
More gaming news and updates
Check out the latest from Mic, including our list of video games that made fun of their players, a personal essay about dealing with anxiety through Breath of the Wild, a look at the racist and sexist experiences in eSports and a plea for better character customization options for black characters.