'Monster Hunter XX' Switch release confirmed, still no specific launch date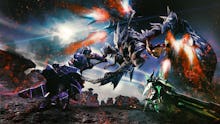 Capcom just made Monster Hunter fans very happy with its announcement that Monster Hunter XX, which initially released on the Nintendo 3DS, is going to be touching down on Nintendo Switch. Previously meant as an expanded and updated versions of the 3DS's Monster Hunter Generations, it's primed to set MonHun fans' hearts aflutter.
Monster Hunter XX Switch release date: What you need to know
Monster Hunter XX (pronounced "Double Cross") is now alive and well, ready for fan speculation and the hype train to pull into the station. Unfortunately, Capcom didn't announce much beyond the fact that Monster Hunter XX will exist and it will come to the Nintendo Switch. There's no release date just yet or any further details beyond the official website. 
It's safe to assume you can expect reworked and improved graphics and additional content, and the hope is that there's Switch-specific content as well. We likely won't know more about the game until E3 2017, if it's indeed announced for Western audiences there, but that gives us plenty of time to speculate.
Monster Hunter Generations and Monster Hunter XX are exemplary 3DS entries. The franchise was a whopping ten years old upon Generations' release, and even now there are still plenty of reasons to keep coming back to it. 
Both Generations and XX felt just as fresh as the original, peppered with enough new ideas to make sure even veteran monster hunters have something interesting to come check out. Hopefully the Switch iteration will do just the same, but first we've got to patiently wait for more details. That's going to prove pretty difficult. 
More gaming news and updates
Check out the latest from Mic, including our list of video games that made fun of their players, a personal essay about dealing with anxiety through Breath of the Wild, a look at the racist and sexist experiences in eSports and a plea for better character customization options for black characters.