Beyond Good and Evil 2' Release Date News: No E3 2017 plans for the Ubisoft sequel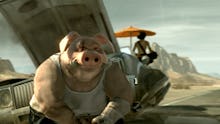 Beyond Good & Evil 2 is a game fans love to speculate about, especially since Ubisoft finally confirmed last October that the game does indeed exist. Unfortunately, it's going to be a little longer before we get a real glimpse of it. 
According to creator Michel Ancel, it won't even be making an appearance at E3 2017. Don't despair just yet, howeverL It appears we'll hear more about the game later this year, though there's no date to look forward to at the moment. 
Beyond Good and Evil 2: What we know about the upcoming sequel 
Michel Ancel likely knew fans were looking forward to a possible E3 2017 reveal, to which he responded on Instagram with a comment of his own, stating he was "not sure" that E3 would be the best place to showcase a new Beyond title, but that the group is "working on the game." He continued, saying "Sometime this year you should hear about it!"
We still know a few things about the upcoming sequel, which was originally revealed back in 2008, five years after the original game debuted in 2003. In October 2016, we learned that development had gotten back on track and the game was actively being worked on, though we've only had a few screenshots to show for it since then. 
At the very least, we can say with confidence that the game is still coming down the pipeline, despite its seeming like it could potentially have been lost to development hell in the past. 
More gaming news and updates
Check out the latest from Mic, including our list of video games that made fun of their players, a personal essay about dealing with anxiety through Breath of the Wild, a look at the racist and sexist experiences in eSports and a plea for better character customization options for black characters.