Report: Jared Kushner allegedly asked for secret communication with Russia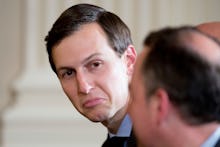 As Mic previously reported, Jared Kushner, son-in-law and adviser to President Donald Trump, is currently under investigation as part of the FBI inquiry into ties between the Trump campaign and Russia. Now, an explosive new report by the Washington Post claims Kushner discussed the possibility of setting up a secure line of communication between the Trump transition team and the Kremlin, according to officials briefed on intelligence reports.
The proposed communication channel, the Washington Post reported, would use Russian diplomatic facilities to shield pre-inauguration discussions. Kushner allegedly made the proposal during a meeting on Dec. 1 or 2 at Trump Tower. According to the Washington Post, Michael Flynn was also in attendance at the meeting.
The White House, lawyers for Flynn and the Russian embassy all declined to comment to the Post on the matter.
As the Washington Post noted, the FBI closely monitors the communications of Russian officials in the United States. Knowing this, Russia will feed false information into communication channels to throw off U.S. analysts. Still, the veracity of the Kushner claims seem odd to the officials who spoke to the Washington Post. The entire idea, according to one former senior intelligence official, "seems extremely naïve or absolutely crazy."
On Friday, prior to the revelation of Kushner's unethical communication attempts, the Democratic National Committee called for Kushner's security clearance to be suspended due to the investigation, Mic reported.
"The FBI's Russia investigation reached Trump's backyard, and now it's in his house," Adrienne Watson, the DNC's deputy communications director, said in a statement. "Kushner's security clearance should be suspended until the FBI's findings are complete."