'Dragon Quest X' Release Date & Trailer: When it's coming out on Nintendo Switch in Japan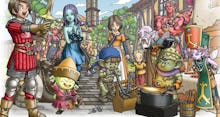 Dragon Quest X, the tenth official game in the Dragon Quest franchise, is an online installment with several expansions. It's previously been available on everything from the Wii to the Nintendo 3DS, and now it's going to be landing on the Nintendo Switch for Japanese fans this September, according to GoNintendo. Hopefully, this means we're one step closer to a Dragon Quest X release in the West.
Dragon Quest 10 Release date and trailer: First look at Nintendo Switch gameplay
Square Enix has released the first Switch footage during a conference announcing the Dragon Quest X: All-in-One Package for Switch, which combines the game and its first two expansion packs into one release to streamline things for fans. The footage can be viewed at 29:13 in the video below. 
This compilation package had previously released for Wii U and PC in December 2015, but now it's time for Switch fans in Japan to get a healthy dose of Dragon Quest X online. 
The Switch version will debut in Japan on September 21 for 5,184 yen (about $46) and the monthly usage fee to play the game will run about 1,000 to 1,500 yen for three to five characters. Those looking to give it a try during its test period can do so beginning July 19 through August 10, with 16 GB of storage required on the Switch for the test version of the game. 
Now that the Switch is getting in on the action, Nintendo and Square Enix may see fit to bring the online adventure to fans in other locations, especially since the Switch could really use some more role-playing flavor in its arsenal right about now. Hopefully, we'll see a big announcement in the future in that regard. 
More gaming news and updates
Check out the latest from Mic, including our list of video games that made fun of their players, a personal essay about dealing with anxiety through Breath of the Wild, a look at the racist and sexist experiences in eSports and a plea for better character customization options for black characters.