'Rime' Denuvo: Tequila Works to remove anti-tamper tech if PC version is cracked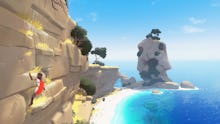 Tequila Works' single-player adventure Rime has been attracting a lot of attention since it was released yesterday, some of which can be attributed to the PC version's anti-tamper tech, Denuvo. Rime isn't the only game to utilize Denuvo, which is DRM (digital rights management) meant to keep players from cracking or removing features like copy protection and other types of measures that might keep pirated copies from working. 
According to SegmentNext, Tequila Works has stated, however, that if hackers are able to crack Rime in its current state, it will release Denuvo-free versions of the game in the future. 
Rime Denuvo: Details on possible removal
Tequila Works released an official statement regarding Rime and Denuvo after taking note of players' thoughts on the sometimes very frustrating anti-piracy software. Developer Dariuas, speaking on Steam, made a post in the official Rime forums about the issue. 
"I have seen some conversations about our use of Denuvo anti-tamper, and I wanted to take a moment to address it. We have had discussions about Denuvo internally, and one of the key points of all of those discussions [has] simply been, we want to ensure the best gaming experience for Rime players. Rime is a very personal experience told through both sight and sound. When a game is cracked, it runs the risk of creating issues with both of those items, and we want to do everything we can to preserve this quality in Rime.
Removing Denuvo protection from future versions of the game will ensure players get the best experience they can without having to tussle with the anti-piracy measures. And if people are going to crack the game anyway, then at the very least, the issues that can rise up with cracked games can be resolved so everyone has an optimal experience. 
Denuvo is not a completely uncrackable system, either, with Resident Evil 7 cracked within the first week of its debut on store shelves, and Mass Effect Andromeda getting the same treatment not long after it came out either. Pirates will likely end up cracking Rime, and we might see a Denuvo-free version of the game for PC players in the future.
More gaming news and updates
Check out the latest from Mic, including our list of video games that made fun of their players, a personal essay about dealing with anxiety through Breath of the Wild, a look at the racist and sexist experiences in eSports and a plea for better character customization options for black characters.