Leo Varadkar may be Ireland's first openly gay prime minister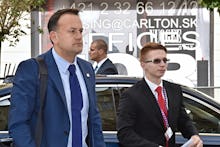 Ireland appears slated to elect a prime minister, or taoiseach, who is openly gay for the first time. Next week, Leo Varadkar is widely expected to succeed Enda Kenny as leader of the Fine Gael party and leadership of the country, NBC News reported.
Varadkar, the current minister for social protection in the Irish government, is just 38 years old — which would make him the youngest ever to hold the taoiseach position. He is also of South Asian ancestry, another potential first; his father, Ashok, was born in Mumbai, India, and married his mother, Miriam, while in England in the 1970s.
"I honestly don't think in 1981 when I first got elected that I could foresee a time when an openly gay man might become taoiseach," former Fine Gael deputy leader Nora Owen told Reuters.
"We have come a long way and the fact that someone like Leo Varadkar, who is an openly gay man, living with his partner, can actually put himself forward for taoiseach and nobody is batting an eyelid is wonderful, and I think it's a great day for Ireland that we can do that."
According to Reuters, Varadkar has secured the publicly declared support of "46 of Fine Gael's 73 lawmakers in the June 2 race to succeed Kenny," making his lead to secure the top job potentially insurmountable.
A Varadkar victory would mark a sea change in attitudes in Irish politics. The nation only decriminalized homosexuality in 1993 and legalized divorce two years later, in large part due to its Catholic roots.