Teen who was targeted by a white supremacist in Portland thanks the men who saved her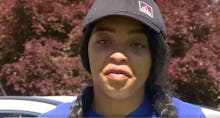 A tearful teenage girl shared her gratitude with reporters on Saturday, a day after a white supremacist fatally stabbed two men who stepped in while he was harassing her and her friend, allegedly because he thought they were Muslim.
Destinee Mangum, 16, who is not Muslim, told Fox 12 KPTV in Oregon that she and her 17-year-old friend "probably would be dead right now" if it wasn't for the brave men who defended them from the racist comments of 35-year-old Jeremy Joseph Christian.
"I just want to say thank you to the people who put their life on the line for me because they didn't even know me," Mangum told reporters as tears ran down her face Saturday. "They lost their lives because of me and my friend and the way we looked."
Christian, who the Portland Mercury described as a "known white supremacist," is being held on multiple felony counts, including aggravated murder and attempted murder. Two of his alleged victims, army veteran Rick Best, 53, and 2016 Reed College grad Taliesin Myrddin Namkai Meche, 23, died following the attack after Christian allegedly stabbed them in the neck. A third victim, Micah David-Cole Fletcher, 21, survived the attack, but is recovering as of Monday from neck stab wounds at a local hospital, according to the Oregonian.
On Monday, President Donald Trump condemned the attack through his @POTUS account on Twitter.
Mangum and her friend, who is Muslim and was wearing a hijab, were riding a public transit train in Portland when Christian started yelling racist rhetoric at them, according to Mangum, telling the teen girls to "get out of his country," and "go back to Saudi Arabia."
"He was just telling us that we basically weren't anything and that we should kill ourselves," Mangum recalled of the incident.
Moments later, the three victims of the stabbing attack intervened, reportedly confronting Christian as he started to argue with the trio before stabbing them.
"I just want to say thank you to them and their family and that I appreciate them," Mangum said.
May 29, 2017 12:02 p.m.: This post has been updated.