Tiger Woods was arrested for a possible DUI in Florida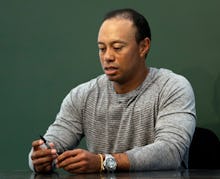 Golf icon Tiger Woods was released from jail around 10:50 a.m. on Monday after spending the early morning there following a DUI arrest, according to People.
Local police told People that Woods, 41, was arrested at 3 a.m. on Military Trail, south of Indian Creek Parkway, in Jupiter, Florida.
He spent the rest of the morning in Palm Beach County Jail before being released.
It's not the first time Woods has made the news for an incident with his vehicle. In 2009, Woods crashed his SUV into a fire hydrant near his Florida home. His then-wife, Elin Nordegren, used a golf club to break the back window to help him out of the car. The crash ultimately led to revelations that he had been cheating on his wife, and the couple divorced less than a year later. Nordegren was awarded $750 million settlement along with custody of their multiple children.
The legendary golfer won 14 majors prior to the 2009 incident and appeared to be well on his way to catching up to golfing icon Jack Nicklaus' record of 18 major titles. Woods hasn't won a major since.