People are honoring service men Richard Collins III, Rick Best for standing up to racism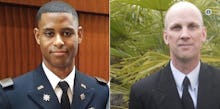 Newly-commissioned U.S. Army Second Lieutenant Richard Wilbur Collins III and Army veteran Rick Best were recently killed reportedly combating white supremacy in favor of American ideals in their own country.
On Memorial Day, although they weren't killed in combat during foreign wars, their fellow citizens are honoring them on social media.
Collins, 23, who was black, was three days from officially graduating from Bowie State University in Maryland when he was fatally stabbed by a white man who authorities say was a member of a suspected white supremacist Facebook group called "Alt Reich."
Collins stood his ground while visiting the University of Maryland's campus with friends that morning when his alleged killer, 22-year-old Sean Urbanski, approached the group, yelling at them to "step left if you know what's best for you."
When Collins refused, Urbanski stabbed him in the chest.
The incident is being investigated as a possible hate crime.
Best, 53, who was white, was one of two men fatally stabbed in the neck Friday while defending two minority teen girls from being verbally harassed with racist remarks from a white man the Portland Mercury described as a "known white supremacist."
President Donald Trump did not address the deaths of either service member during his Memorial Day remarks on Monday morning, but he did condemn Best's killing in a Monday morning tweet.
The Southern Poverty Law Center and the Anti Defamation League have credited Trump's campaign trail remarks about Muslims, immigrants and people of color with fueling the rise of the so-called alt-right and a rise in hate crimes since he won the election in November.