Sofia Coppola becomes second woman to win best director prize at Cannes Film Festival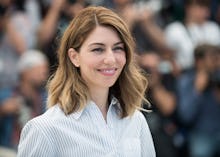 Sofia Coppola, the Academy Award and Golden Globe-winning screenwriter, director and producer, has officially added a new trophy to her already crowded shelf. She is the 2017 winner of the best director prize at the Cannes Film Festival.
In winning the award, Coppola became only the second woman in the festival's 70-year history to take home the prize, according to the Verge. Coppola won for her film The Beguiled, a thriller set during the Civil War starring Nicole Kidman and Colin Farrell. In 1961, Russian director Yuliya Solntseva won the award for her drama Chronicle of Flaming Years, CNN reported.
Maren Ade accepted the prize for Coppola, according to the Hollywood Reporter, who could not be present at the event.
"I was thrilled to get this movie made and it's such an exciting start to be honored in Cannes," Coppola said in a statement. "I'm thankful to my great team and cast and to Focus and Universal for their support of women-driven films."
Kidman, who appeared in four films screened at this year's festival, also received her own special honor as a 70th-anniversary prize, according to the Verge. Though she, too, could not be present to pick up the award, her friend Will Smith happily accepted it for her.
In his humorous speech Smith said, "In my mind, [her speech] would have been something like, 'Merci beaucoup madame and monsieurs!'"