'Denver Post' writer is "no longer an employee" after sending racially charged tweet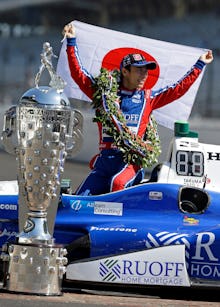 On Sunday, Denver Post sportswriter Terry Frei sent a racially charged tweet after Takuma Sato, a Japanese professional driver, won the Indianapolis 500. 
In his now-deleted tweet, Frei said, "Nothing specifically personal, but I am very uncomfortable with a Japanese driver winning the Indianapolis 500 during Memorial Day weekend," Poynter reported. In a follow-up tweet, on Sunday night, Frei simply said, "I apologize."
A few hours later, Frei followed up that tweet with a lengthier message reading in part:
"I should have known better and I regret it," Frei wrote. "I made a stupid reference, during an emotional weekend, to one of the nations that we fought in World War II." In his apology letter, Frei said that when he was sending the offensive tweet, he was on his way to place flowers on his father's grave — a man he says flew unarmed missions over Japan during WWII. He also noted that he "understands 72 years have passed" since that war.
On Monday, the Denver Post announced that Frei was no longer an employee. In a statement issued by president and CEO Mac Tully and editor Lee Ann Colacioppo to 9NEWS, a local Denver NBC affiliate, the Post explained: 
"We apologize for the disrespectful and unacceptable tweet that was sent by one of our reporters. Terry Frei is no longer an employee of the Denver Post. It's our policy not to comment further on personnel issues. The tweet doesn't represent what we believe nor what we stand for. We hope you will accept our profound apologies."