Portland mayor asks feds to shut down alt-right rallies in wake of recent attacks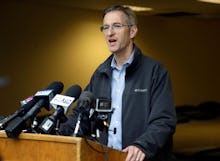 Portland, Oregon, Mayor Ted Wheeler asked the federal government on Monday to revoke the permits for two upcoming free speech rallies in his city. According to Willamette Week, both events were planned by alt-right groups.  
Wheeler announced that he made the requests on his Facebook page and on his Twitter account. In the post, Wheeler noted that the Portland community "remains in shock and mourning" after the horrifying deaths of 23-year-old Taliesin Myrddin Namkai-Meche and 53-year-old Ricky John Best, who were allegedly stabbed by Jeremy Joseph Christian after coming to the defense of two teens he was harassing. According to reports, Christian attended an alt-right rally on April 29 called a "March for Free Speech." He additionally "frequently used the n-word and saluted Hitler," according to Oregon Public Radio. 
"I have confirmed that the City of Portland has NOT and will not issue any permits for the alt-right events scheduled on June 4 or June 10," Wheeler stated. "The federal government controls permitting for Shrunk Plaza, and it is my understanding that they have issued a permit for the event on June 4."
He added that he has called on the federal government to "immediately" revoke the permit(s) they have issued for the June 4 event, which according to Oregon Public Radio is called the "Trump Free Speech Rally." On its Facebook page, the event is billed as an "uplifting experience to bring back strength and courage to those who believe in freedom."
"Our city is in mourning, our community's anger is real, and the timing and subject of these events can only exacerbate an already difficult situation," Wheeler said.
Additionally, Wheeler called upon the organizers of the alt-right demonstrations to cancel the events on their own volition. "I urge them to ask their supporters to stay away from Portland," he said. "There is never a place for bigotry or hatred in our community, and especially not now."