In the last 6 months, there have been four major attacks by white supremacists in the US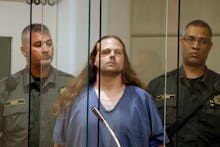 It took President Donald Trump three full days to acknowledge the deaths of two innocent men in Portland, Oregon. The men — 23-year-old Taliesin Myrddin Namkai Meche and 53-year-old Ricky John Best — were killed by an alleged known white supremacist, Jeremy Joseph Christian, who had been yelling anti-Islamic slurs at two young women on public transit. 
In a tweet, Trump praised the victims for "standing up to hate and intolerance." 
As the Washington Post pointed out, the tweet came from the official @POTUS account, which is usually used to update followers on the daily happenings of the White House; Trump has yet to mention the attacks on his personal account. 
In fact, as the Post noted, Trump rarely acknowledges an attack carried out by a white person on his own account, though he has made similar posts regarding attacks made my minorities or by the Islamic State. 
The threat of white supremacist violence is quite real; a 2014 survey — conducted by he National Consortium for the Study of Terrorism and Responses to Terrorism — found that law enforcement officers in the United States saw the sovereign citizen movement, an offshoot of the white supremacist movement, as the largest perceived threat to citizens. ISIS, Slate noted, came in second.
Additionally, the Anti-Defamation League has cataloged 104 incidents of white supremacist fliering on college campuses since the school year began in September 2016. Since January, the group has cataloged more than 60 incidents.
Since Trump's election, at least four attacks have taken place in the U.S. at the hands of white supremacists.
The deaths of Taliesin Myrddin Namkai-Meche and Ricky John Best
On Friday, 23-year-old Taliesin Myrddin Namkai Meche and 53-year-old Ricky John Best were allegedly stabbed to death by Jeremy Joseph Christian after coming to the defense of two teens Christian was harassing. Christian additionally injured 21-year-old Micah David-Cole Fletcher in the attack. 
"Two men lost their lives and another was injured for doing the right thing, standing up for people they didn't know against hatred," Portland Mayor Ted Wheeler said in a statement. "Their actions were brave and selfless." 
According to Oregon Public Radio, Christian attended an alt-right rally on April 29 called a "March for Free Speech" and "frequently used the N-word and saluted Hitler." 
Since the attacks, Mayor Wheeler has asked the federal government to revoke the permits for two alt-right events planned in Portland this summer. 
"Our city is in mourning," Wheeler said in a statement, adding, "Our community's anger is real, and the timing and subject of these events can only exacerbate an already difficult situation." 
The death of William Sims
On Nov. 12, 2016, just days after the presidential election, police in El Sobrante, California, discovered the lifeless body of 28-year-old William Sims. Sims, a black man, was a musician, retail worker and beloved member of his community. According to CBS, police believe he was attacked because of his race.
"Everyone is just devastated, as you can imagine," family spokesman James Harris told the East Bay Times. "It's such a loss and tragedy and for it to happen the way it did. For whatever reason, somebody or some group didn't like him."
According to police, a group of three men jumped Sims at a pool hall, robbed him, beat him, shot him and left him to die. Only one man, 31-year-old Daniel Porter-Kelly, has been arrested in connection to Sims' death. Porter-Kelly has been charged with murder, robbery and a hate crime enhancement, according to the East Bay Times.
The death of Timothy Caughman
On May 22, James Harris Jackson, a known white supremacist, allegedly stabbed 66-year-old Timothy Caughman to death in New York City. As Mic reported, Caughman told police the stabbing was "practice" for a larger attack against black men that he planned to carry out in New York's Times Square. Jackson told police he specifically traveled to New York "for the purpose of killing black men." 
Caughman was an avid autograph collector who'd previously tweeted about how much he loves America. 
The death of Richard Wilbur Collins III
On May 20, 23-year-old Richard Wilbur Collins III was visiting friends at the University of Maryland campus when he was approached by 22-year-old Sean Christopher Urbanski. Urbanski allegedly told Collins to "step left, step left if you know what's good for you," according to University of Maryland Police Chief David Mitchell. When Collins refused, Urbanski reportedly stabbed Collins in the chest, killing him.
Urbanski had belonged to a Facebook group called "Alt-Reich."
"When I looked at the information contained on [the] website, it's despicable. It shows extreme bias against women, Latinos, members of the Jewish faith and especially African-Americans," Mitchell told reporters. "Which brings up questions as to the motive of this case."
Urbanski was charged with first- and second-degree murder and first-degree assault.