Paris Climate Agreement: By backing out, Trump would reject wishes of hundreds of US companies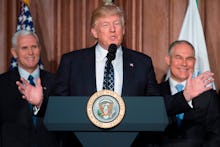 At least 365 companies, including fossil fuel titans like ExxonMobil and BP, support the United States sticking with the Paris Agreement on climate change. President Donald Trump, the pro business president, doesn't seem to care.
Wednesday reports indicated the president is planning to pull to the U.S. out of the landmark agreement.
The move contradicts the desires of Exxon officials, who recently wrote a letter to the White House saying the U.S. is "well-positioned to compete" with the Paris Agreement in place.
"We welcomed the Paris Agreement when it was announced in December 2015," environmental policy and planning manager Peter Trelenberg wrote. "We have reiterated our support on several occasions in opinion pieces and blog posts, most recently by our chairman and CEO Darren Woods."
BP chief executive Dev Sanyal has praised the deal as well. 
"In BP, we have welcomed the Paris Agreement and have recognized the ambition to limit the temperature rise," Sanyal told attendees during a September conference in Berlin. "We are determined to be a part of the process of bringing about action."
They are joined by hundreds of other companies, many who've signed letters to the president, including Starbucks, Nike, Apple, Walmart, General Electric, Google, AT&T, Proctor & Gamble, even coal producers like Arch Coal and Cloud Peak Energy.
Cloud Peak CEO Colin Marshall wrote a letter to President Trump in April urging him to stick with the Paris Agreement.
"By remaining in the Paris Agreement, albeit with a much different pledge on emissions, you can help shape a more rational international approach to climate policy," Marshall wrote, according to Reuters.
Trump tweeted on Wednesday that he would be "announcing my decision on the Paris Climate Accord over the next few days."
Officials caution that the terms of the pullout are subject to change until the president makes his formal announcement, according to CNN.