Eat cheap lunches and save thousands of dollars a year with this simple move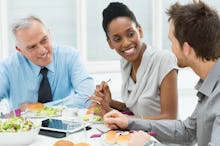 Although eating that pungent salami sandwich at your desk won't win you friends at the office, it could save you tons of money. In fact, a growing number of workers are ditching the afternoon business lunch tradition and eating at their desk instead, NPD Group spokeswoman Kim McLynn told Mic by email.
American workers made approximately 433 million fewer lunchtime restaurant visits last year than in 2015, potentially saving them thousands of dollars. Among the possible reasons: more people working from home, the rise of online shopping and the rising price of restaurant meals, as the Wall Street Journal reported.
People who opt to bring their lunch to work every day during the week can slash their lunch expenses by roughly 80%, Time estimates. You're also more likely to eat healthier when you pack your own lunch.  
Now, you may know the benefits to brownbagging in the abstract. But when it comes down to cost, seeing exactly how much you spend each day at lunch may inspire you to reduce your restaurant trips. The average lunchtime bill is $7.38, NPD found, which means if you dine out every afternoon you are spending close to $40 a week or $2,000 a year on average.
This data is close to other estimates, including survey findings collected in 2015 by Visa, which found that the average American spends $53 a week on lunch, or anywhere from $2,746 to $9,000 a year. So how much cash will prepping your own food save you, personally?
How much money bringing lunch saves you
Using that 80% rule and the NPD and Visa estimates, brownbagging lunch could save you, ballpark, between $1,500 and $7,200 a year. And if you build in other money-saving hacks, like bringing in leftovers from your last dinner, you could tack on a few more Benjamins in savings.
Of course, your precise savings number will depend on many factors, like the cost of the ingredients you are using to cook, the city or town where you live — and whether you're actually splurging when you eat out.
To estimate how much you will realistically save, use a lunch savings calculator like this one. And remember that if you put any money saved from brownbagging into an interest-bearing savings account (see Mic's piece on that here), you might end up with even more cash in your pocket.
Some moves that will make it packing lunch a more seamless part of your schedule? Buy or hang onto plastic containers, and learn recipes that are quick and simple to portion out, for salads, pastas, sandwiches and casseroles, for example. Keeping fresh fruit and yogurt around makes tossing in dessert easy.
Finally, check out Mic's guide to spending just $5 a day on food for some tasty lunch ideas that won't blow your budget.
Sign up for The Payoff — your weekly crash course on how to live your best financial life. Additionally, for all your burning money questions, check out Mic's credit, savings, career, investing and health care hubs for more information — that pays off.