Sean Spicer suggests "covfefe" is a code only a "small group of people" understand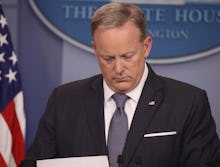 White House press secretary Sean Spicer refused to say what "covfefe" means, telling reporters in an off-camera briefing on Wednesday that, "the president and a small group of people know exactly what he meant."
Spicer's refusal to define the typo from Trump's now-viral tweet from 12:06 a.m. on Wednesday only led to more questions from reporters gathered at the White House to ask Spicer questions.
The room erupted after Spicer's suggestion that covfefe was some sort of code, rather than just a typo.
April D. Ryan, White House correspondent for American Urban Radio Networks, can be heard asking in an exapserated tone of voice, "What does he mean? What is covfefe?"
While another voice in the room can be heard sighing, "Oh my gosh."
Trump's "covfefe" tweet was deleted on Wednesday morning — but not before sparking a still-growing meme.
For now, most Americans still don't know exactly what Trump was going for.