'Kerbal Space Program' Take-Two Interactive: 'KSP' acquired by megapublisher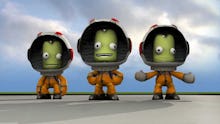 The adorable aliens behind Kerbal Space Program (KSP) are moving to a new home. Take-Two Interactive, the parent company behind games like Rockstar's Grand Theft Auto and 2K's Borderlands, has acquired the game in a rather surprising move, as announced via Kerbal's official developer, Squad. It's a bright day for the game's massive fanbase, as this should mean plenty of new content and more timely updates for the smart rocket-building game. 
Kerbal Space Program Take-Two Interactive: Everything you need to know about the acquisition
KSP developer Squad took to its blog to make the announcement: 
We have very exciting news to share with the KSP community today: Take-Two Interactive has purchased 'Kerbal Space Program.' The important thing to know is that this big news doesn't change much for the 'KSP' community. Squad and the current development team is still here and we're hard at work on 'KSP' and its future updates, but now we are fortunate enough to do so with the help of an experienced publisher like Take-Two, and we couldn't be more excited and happy to see where our conjoint collaboration will take 'KSP' forward.
Squad will be putting out additional content as promised, with new additions to the Kerbal Space Program universe, which fans will no doubt be happy to hear. Previously, however, as Eurogamer states, some members of Squad previously went to work for Valve on a yet- to-be-announced project, so we'll probably hear about that more in the coming days as well. For now, it's great news to see Kerbal Space Program getting the recognition it deserves. 
If you're unaware, Kerbal Space Program is a game where you're tasked with creating your own space-worthy craft that can be launched into space and support its crew. This is a whole lot more complicated than it sounds, as each part you have to use to build said craft functions differently and can sometimes mean the difference between crashing back to the ground or soaring over the earth. 
It's incredibly fun, but can also be very challenging, with a lot of trial and error involved. You'll certainly want to try it now that it's even being backed by an experienced publisher. 
Check out more video game content on Mic. Including which Pokémon are actually the best and why black players can never seem to get custom characters that look like them. Learn more about how blind gamers are getting in on the fun. Don't miss our guide to dodging blue shells in the Mario Kart 8 Deluxe — you can thank us later.