Portland activists divided on the ACLU's defense of white supremacists' right to protest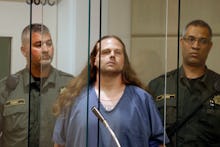 Civil rights advocates in Oregon are angry with the ACLU's defense of so-called "alt-right" groups and their planned pro-Donald Trump free speech rallies in the wake of reported white supremacist Jeremy Joseph Christian's alleged brutal murder of two men.
Pro-Black Lives Matter community activist Teressa Raiford of the Don't Shoot Portland organization said she fears there will be more violence and bloodshed if the groups are allowed to demonstrate as planned on Sunday, June 4.
Counterprotests are also planned, but Raiford said she won't be there.
"I don't want anybody being killed or murdered because of my presence," Raiford said in a phone interview Wednesday. "The police will allow us to be assaulted, abused and murdered. We've been attacked by the police and white supremacists during the entire time we've been protesting since 2014." 
In court Tuesday, Christian shouted, "Free speech or die, Portland!" during his arraignment on murder charges.
"You got no right to safe space!" he yelled at the courtroom gallery where Micah David-Cole Fletcher, 21, his lone surviving victim, sat listening with neck stab wounds visible for all to see, a reminder of the violence that often follows when hate speech goes unchecked.
Portland Mayor Ted Wheeler has opposed the demonstrations, reaffirming on Monday that city government will not grant protest permits to the alt-right event organizers, who instead have applied to protest in the city's Schrunk Plaza park space, which Wheeler says is controlled by the federal government.
In a Facebook post Monday, Wheeler asked federal officials to deny the white nationalists' protest permits given the tragic events that just occurred.
"Our City is in mourning, our community's anger is real, and the timing and subject of these events can only exacerbate an already difficult situation," Wheeler wrote on Facebook.
In spite of the uproar, organizer Joey Gibson told the local Tom and Curley radio show on Monday his group Patriot Prayer is proceeding with its rally.
The ACLU — which has frequently made headlines in 2017 for its efforts against many of President Donald Trump's statements and policies, especially regarding his failed Muslim travel ban — is defending Gibson and his followers' on First Amendment grounds, even if it leads to more violence.
Local ACLU legal director Mat dos Santos reaffirmed the organization's position on Twitter Monday.
A pattern of violence
The ACLU and NAACP are often allies on many issues, but according to Portland NAACP President Jo Ann Hardesty, this isn't one of them.
"As soon as you start preaching hate to the point you start physically endangering people, that is unacceptable," Hardesty said in an interview Wednesday.
She pointed to the recent pattern of violence involving white supremacists attacking people of color.
On March 20, a self-avowed white supremacist stalked and fatally stabbed Timothy Caughman in New York City just for being black.
On May 22, another suspected white supremacist fatally stabbed African-American Richard Collins III in Maryland.
Alt-right protesters clashed with counterprotesters in New Orleans in May in defense of Confederate monuments and hosted a tiki-torchlit rally in Charleston, Virginia, for the same reason.
In fact, since 2016, the alt-right has contributed to a 20% spike in major city hate crimes and an 86% spike in anti-semitic incidents nationally.
Raiford said white nationalists in Portland have video-recorded and created digital profiles of her and other Black Lives Matter activists, sharing their records with other Aryan groups to target black activists, some of whom have had their homes vandalized or been physically assaulted.
"They go everywhere we go," Raiford said. "They've threatened me on social media using Twitter. They called me mama bear at a school board meeting. The police told us we can't worry about being threatened because they have a right to be in the same space. We've had kids filing complaints finding swastikas on desks and they do nothing."
Oregon's racist past and present
Despite its liberal reputation nationally, Oregon is a state with a storied history of white supremacy that clearly lives on today.
Founded by southerners in 1859, the state once banned African Americans from living there, according to Newsweek. During the 1920s, Oregon boasted the nation's highest per capita Klan membership.
Hardesty says this is the historical context the ACLU needs to consider.
"In a state where white supremacy was the founding doctrine, we have to make sure we don't let that take hold ever again," she said.
But Hardesty's progressive ally Jamie Partridge, a labor organizer with Portland's International Socialist Organization, disagreed with her.
His group is one of 35 organizations planning the Portland Stands United Against Hate counterprotest Sunday afternoon.
"In the current political climate, especially considering who's in the White House, our organization believes it's dangerous that the state can use free speech suppression to suppress our side," Partridge said in a phone interview Wednesday.
"We need to show [white supremacists] through the power of the people that the people of Portland, the people of this country, are opposed to them and their racism," Partridge said. "We shouldn't rely on government permits to discourage them."