Jurors often want to convict police of violent crimes. These Supreme Court rulings stand in the way.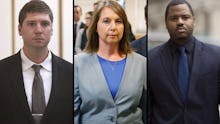 Among the things that can make a police officer seem guilty of criminal misconduct, manslaughter and even murder after a fatal encounter with unarmed subjects: a damning video, evidence of racial bias, and prior complaints of excessive force.
But despite this evidence, jurors often can't convict officers for lethal use of force. Most recently, a jury wasn't able to convict Betty Shelby, the police officer in Tulsa, Oklahoma, who fatally shot Terence Crutcher, an unarmed black motorist. The father of four was seen in police video with his hands raised, but on May 17 a jury found Shelby not guilty of first-degree manslaughter.
Other recent high-profile cases of officers facing trial for using lethal force show similar results. In case after case, police officers have been acquitted of criminal charges due to legal standards that tip the scales of justice in favor of law enforcement agencies, the families of victims and reform advocates say.
The legal standard that holds jurors back
In the mid- to late-1980s, a pair of U.S. Supreme Court decisions established what is widely known as the "reasonableness" standard. Graham v. Connor, a case decided on May 15, 1989, held that an officer's use of force was lawful under the Fourth Amendment — if another officer deemed their colleague's conduct "objectively reasonable" under the given circumstances. In Tennessee v. Garner, the court decided on March 27, 1985, that an officer's use of force was lawful if the officer had a reasonable fear for his or her life or for the safety of others.
Even when narrowly applied, these standards provide a lot of leeway for officers facing internal reprimand or public trial, policing experts said in interviews with Mic. These standards also restrict jurors who may believe, because of evidence such as video documentation, that the officer is at fault. During deliberations in the Shelby trial, the jury was reportedly tearful and wanted to make a public statement explaining their verdict, but the judge didn't allow it — ultimately leading to jurors releasing a public letter.
"Many on the jury could never get comfortable with the concept of Betty Shelby being blameless for Mr. Crutcher's death," a jury foreman wrote in an open letter after jurors announced their verdict. An officer in a helicopter hovering over the scene radioed that Crutcher looked "like a bad dude," suggesting racial bias among Tulsa officers.
But Shelby, who had two unsubstantiated excessive-force complaints on her record, rejected allegations of racial bias and asserted that Crutcher disobeyed her commands to freeze. Shelby feared Crutcher was going to reach for a weapon in his stalled vehicle and kill her, she told jurors.
"The jury concluded that any officer put in that situation at that exact moment and regardless of the skin color, gender or size of the suspect, would have performed the same way, which is in accordance with their law enforcement training," the jury foreman wrote in the letter. "Due to the lack of direct evidence or even circumstantial evidence that she was acting outside of her training ... the jury was forced by the rule of law to render a not guilty verdict."
Tiffany Crutcher, the twin sister of Terence Crutcher, has vowed to challenge the legal standards that set her brother's killer free. "I believe that we need to go to the Supreme Court and attack the law of reasonableness," Tiffany Crutcher said in a phone interview. "It's really disheartening to know that [jurors] felt, in their hearts, and knew [Shelby] was guilty."
Ronnie Dunn, a professor of urban studies at Ohio's Cleveland State University with expertise in police-reform issues, evoked the 1992 acquittal of officers who brutally beat Rodney King, as a high-profile example of how law enforcement unfairly benefits from the Supreme Court's reasonableness standard. Dunn said changing the standard must be done through the political process as well as in the courts.
"Truthfully, I think the way that those incidents are looked at [in court] needs to be reframed," Dunn said in a phone interview. "There's this notion that policing is so difficult that only another officer can determine if an officer is reasonable."
How "reasonableness" plays out in police-shooting trials
"Reasonableness" as a legal standard played out in a trial over the 2012 Cleveland police-shooting deaths of Timothy Russell and Malissa Williams, who were black and unarmed. Russell and Williams led more than 100 Cleveland police officers on a 22-minute chase after officers believed they had fired a gun from their vehicle. As the chase ended, amid a hail of bullets from other officers, Michael Brelo jumped on the hood of Russell and Williams' car and fired into the windshield 15 times.
Prosecutors charged Brelo with voluntary manslaughter, arguing that his use of lethal force was unreasonable and went past his duties as an officer. During trial in 2015, Brelo's defense attorneys argued that he had a reasonable fear for his life and that his use of force was reasonable because other officers who fired their guns also believed Russell and Williams were armed. A Cleveland area judge agreed and acquitted Brelo on May 23, 2015.
These cases are often looked at as potential turning points in the fight for police reform. The hope is that if a jury could find an officer guilty, the verdict could ignite change in police departments across the nation.
Jurors seated for the trial of Baltimore police Officer William Porter agreed that policing reforms are needed to address systemic issues of brutality, according to Susan Elgin, a divorce lawyer and juror from the Porter trial whom Mic spoke with in a phone interview. In May 2015, Porter was among six officers indicted over the April 2015 in-custody death of Freddie Gray, a black man whom officers had arrested and allegedly left shackled and unbuckled in a police van, resulting in his hospitalization for severe back and neck injuries. After falling into a coma, Gray died of his injuries on April 19, 2015. His death sparked civil unrest, looting and arson, along with peaceful calls for reform.
"All the jurors in my case were upset and felt that we wanted to do something about the situation of police issues in Baltimore," Elgin said. "But convicting Officer Porter was not the way to do it."
Nearly seven months later, when a jury was asked to decide if Porter had by legal definition acted outside of his training and intentionally meant to harm Gray, jurors could not come to an agreement. A mistrial was declared on Porter's involuntary manslaughter, second-degree assault and misconduct in office charges, on Dec. 16, 2015. Given that a judge found two other officers not guilty of charges in Gray's death, the Baltimore's state prosecutor dropped all remaining charges in the case in July.
Despite this, the Baltimore Police Department has taken steps towards reform, through a court-enforceable consent decree negotiated with the U.S. Department of Justice's civil rights office.
When fear factors into a jury's verdict
In 2016, a mistrial was declared in the murder trial of former North Charleston, South Carolina, police officer Michael Slager, due to a hung jury. In April 2015, Slager fatally shot Walter Scott in the back, as he fled an attempted arrest. The incident was caught on video, and Slager testified that he was in "total fear" during the altercation.
After the trial, a black jury foreman who said he was leaning toward conviction said there was a white juror who deadlocked against convicting Slager of murder. Others were undecided. After learning the legal definitions of the charge and seeing the evidence, "we had come to find out [Slager] didn't do anything malicious" and that the officer was actually guilty of "voluntary manslaughter," Dorsey Montgomery, the jury foreman, said in a Today show interview in December. Slager was due for a retrial on the charge but avoided it by pleading guilty to federal civil rights charges on May 2.
African-Americans, in particular, are disproportionately affected by officers' use of force, regardless of whether the force is deemed reasonable. Blacks were 24% of the 1,092 people killed by police in 2016, even though they are roughly 13% of the U.S. population, according to The Counted, a database of officer-involved homicides tracked by The Guardian. These numbers have been the driving force behind the Movement for Black Lives, a collective of grassroots activist groups that has called for a transformation of U.S. law enforcement and its relationship to black communities.
The disparate impact of police violence against blacks, when compared to whites and Latinos, is part of the legacy of institutional racism in the U.S. judicial system stretching back to slavery. Gloria Browne-Marshall, associate professor of law and police science at John Jay College of Criminal Justice in New York City, said the system has been used to maintain supremacy for whites.
"We just keep pretending as though it doesn't exist and then these cases pop up and throws it in our faces," Browne-Marshall said in a phone interview. "And we ask the question 'how could this happen?' I asked the question 'how has it not happened more often?'"
Furthermore, jurors who will cite the "rule of law" as the reason for their not-guilty verdicts are reluctant to see their decisions as a perpetuation of the unfair system, Browne-Marshall said.
A study of violence-related police crimes, published in 2016 by researchers at Bowling Green State University in Ohio, found that 104 cases out of 3,328 crimes involved murder or non-negligent manslaughter. But between 2005 and 2011, less than a half of all violence-related cases resulted in an officer's criminal conviction on at least one charge, according to the study.
Of course, there are recent examples of officers who have been convicted of manslaughter in a criminal court. Former New York City police officer Peter Liang was convicted of manslaughter in 2016. Liang fatally shot Akai Gurley, who was black and unarmed, in a darkened stairwell of a housing project. The former officer was spared jail time and received probation.
In 2010, a jury convicted Johannes Mehserle, a white former Bay Area Rapid Transit police officer, of involuntary manslaughter in the 2009 fatal shooting Oscar Grant III. Mehserle shot Grant, a black and unarmed 22-year-old, in the back while he was handcuff and lying on his stomach on a train platform in Oakland, California. The former officer received a sentence of two years in prison and was released after serving 11 months.
Despite these guilty verdicts, the reasonableness standard is again playing out in two trials: the second-degree manslaughter trial of St. Anthony, Minnesota, police officer Jeronimo Yanez, who fatally shot Philando Castile during a traffic stop in July and a retrial of murder and voluntary manslaughter charges against Ray Tensing, the former University of Cincinnati police officer who fatally shot Samuel DuBose in July 2015. Tensing's first trial ended in a mistrial due to a hung jury in November.
Yanez and Tensing have pleaded not guilty.