Best places to travel: 10 cities with the biggest discounts on airfare in June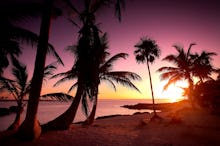 If you've had enough of spring showers and are ready to kick off summer, you may be looking for a quick, fun getaway that won't kill your vacation budget. Is it possible to get away more than once this summer?
Absolutely! As long as you know where to find the deals, you can travel for a lot less, even out of the country. In a recent study, travel-tracking site Hopper gazed into its crystal ball and made some predictions on where you can find decent airfare deals right now — and how much those prices are projected to drop in the coming weeks.
Using average national airfare prices and comparing them to jet fuel costs, seasonal travel peaks and variations, Hopper generated a list of the top U.S. and international destinations to save you money.
While Hopper anticipates airfare prices to peak in June, analysts say domestic prices will tumble in July and will remain low through October — so the deals should continue through autumn. But if you're ready to bounce now, here's how much you can save on travel. Plus, researchers at Wonder helped us identify cool events and attractions for the 10 top destinations below.
Cheapest U.S. destinations to travel to in June
You can save quite a bit of cash traveling to these destinations, but the savings don't have to stop there. Here are the top cities and attractions you shouldn't miss, plus the average price of a round-trip ticket across all U.S. origin cities — and how much flight prices are predicted to drop.
5. Minneapolis, Minnesota
Average flight price: $231
Predicted price drop: 23%
Take advantage of Minneapolis' gorgeous weather and visit the city's Chain of Lakes and picturesque Minnehaha Park. Other "must sees" include the Minneapolis Institute of Art, Como Park Zoo and Conservatory in nearby St. Paul and the Science Museum of Minnesota.
If you're a shopper or love rides, heading to the famous Mall of America is worth the trip. If you like a good scavenger hunt, check out the Amazing Scavenger Hunt where the city is your game board. Hungry? The Twin Cities Eater published a list of the 38 hottest dining spots in the Minneapolis/St. Paul area that includes everything from the hole-in-the-wall Al's Breakfast to offerings from the James Beard award-winning chef's Bar La Grassa.
4. Baltimore, Maryland
Average flight price: $222
Predicted price drop: 22%
The No. 1 attraction in Baltimore is the National Aquarium, home to more than 16,000 sea creatures. But don't miss Walters Art Gallery, the host of June's Training the Eye exhibit, or the American Visionary Museum for a trip down "quirky lane." For an afternoon of food and shopping, head over to Fell's Point and walk the historic cobblestone streets. Good places to eat include Bookmaker's Cocktail Club and Thames Street Oyster House for signature Maryland crabs.
3. Dallas, Texas
Average flight price: $229
Predicted price drop: 21%
June is an ideal time to walk through the Dallas Arboretum and Botanical Gardens to witness spring firsthand. You can also travel back in time to experience the assassination and legacy of the late John F. Kennedy at the Sixth Floor Museum or relax in historical White Rock Lake park. Sample some of the famous food Dallas offers during the Taste of Dallas on June 10, and don't leave town without trying the famous ribs at Smokey John's Bar-B-Q.
2. New York City, New York
Average flight price: $284
Predicted price drop: 21%
You probably know about the famous museums and world-renowned attractions, but you shouldn't miss June-specific events such as Pride Week, the Rose Garden weekend at the New York Botanical Garden and a Vegan Street Fair where you can sample some of the city's best vegan food. For dinner, head to the White Oak Oyster Bar and Lounge in Midtown or Amelie in Greenwich Village. Consider a Brooklyn hotel to save money.
1. Orlando, Florida
Average flight price: $185
Predicted price drop: 21%
Although the state's major theme parks attract a number of tourists, Orlando hosts cool June events like Gay Days and Bite30, the city's 30-day restaurant walk. Other not-to-miss attractions include the Charles Hosmer Morse Museum of Art in Winter Park and the Harry P. Leu Gardens. For good eats, check out Café Tu Tu Tango or the Rusty Spoon.
Cheapest international destinations to travel to in June
International travel doesn't mean you have to spend a ton on airfare. Before you leave, be sure your passport isn't expired, and pack the right attire for your stop. Here are the top destinations, plus the average price of a round-trip ticket from all U.S. origin cities — and how much flight prices are predicted to drop.
5. Guadalajara, Mexico
Average flight price: $281
Predicted price drop: 35%
While the beaches should definitely be part of your trip, get a real taste of Mexico with June's Tequila Day Experience. Offering samples of freshly distilled tequilas, lunch and a tour, this excursion is not to be missed. Also, shop till you drop in the Mercado Libertad. You can tour the market or just wander from vendor to vendor. When it's time to eat, don't miss spots like Karne Garibaldi and Santo Coyote.
4. Tokyo, Japan
Average flight price: $600
Predicted price drop: 35%
Tokyo is a delicious place to visit, and the evening Japanese Food Tour is a great way to sample the fare and local haunts that tourists often miss. Also, the shopping is unbeatable, especially at Shibuya, Tokyo's top shopping district. For more food and fun, Timeout published a list of 101 things to do in the area, including bars, restaurants and cool activities. And speaking of restaurants, you can't leave Japan without sampling sushi — Sukiyabashi Jiro is the place to go, according to Places to See in Your Lifetime.
3. Montreal, Canada
Average flight price: $327
Predicted price drop: 30%
Celebrating the city's 375th birthday this year, the Montreal Museum of Fine Arts is hosting an open-air museum, lining Sherbrooke street with 67 works of art from June 5 through the end of October. Also, tour the historic landmarks during the Old Montreal Food Tour. Don't leave Montreal without sampling some of its world-famous beer — Saint-Bock is known for its extensive craft beer menu. The city is a haven for foodies, considering eateries like Pizzeria Napoletana or Asian cuisine like Otto Yakitori Izakaya and Epicerie Hao.
2. Liberia, Costa Rica
Average flight price: $561
Predicted price drop: 29%
If you like water sports, don't miss a day at Rincon de la Vieja National Park for tubing, rock climbing and a dip in the hot springs. You can also check out breathtaking waterfalls like the Llanos de Cortez Waterfall or the falls at Montezuma beach. Sample the best chocolate and famous coffee Costa Rica has to offer during the Britt Coffee and Chocolate Tasting Tour. For dining, Restaurante Tierra Mar or Restaurante Casa Vieja should not be missed.
1. Saint Martin Island
Average flight price: $496
Predicted price drop: 29%
It's no secret St. Martin has some of the most beautiful beaches in the world — Mullet Bay and Maho Beach, for starters — but there are also attractions like the Butterfly Farm, wildlife and nature preserves and the Loterie Farm. Considered the "gourmet capital of the Caribbean," Saint Martin also boasts amazing restaurants like Bacchus or the Hidden Forest Café at Loterie Farm.
Sign up for The Payoff — your weekly crash course on how to live your best financial life. Additionally, for all your burning money questions, check out Mic's credit, savings, career, investing and health care hubs for more information — that pays off.