'Murder on the Orient Express' Movie Clues: 3 hints about the murderer you may have missed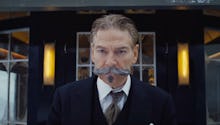 20th Century Fox just dropped an ominous, star-studded trailer for Murder on the Orient Express — and everyone's a suspect.
This latest adaptation of Agatha's Christie's classic 1934 murder mystery stars Judi Dench, Star Wars' Daisy Ridley, Penelope Cruz and Johnny Depp in a gripping whodunnit set on the Orient Express, a luxurious transcontinental passenger train. (The real-life Orient Express stopped running in 2009.) Kenneth Branagh, who directed the film, stars as Det. Hercule Poirot, a ridiculously mustached Christie character who happens to be the "greatest detective in the world."
Ignoring the fact that the 1934-set trailer features an Imagine Dragons song, let's talk about the other aspects of the movie's advertising campaign. As Entertainment Weekly reported, Orient Express' promotional materials include a trail of hidden clues to reveal spoilerific deets about the movie's murder suspects. Keep reading if you'd like to find out what we learned after doing some sleuthing of our own.
1. Daisy Ridley's character is a little stalkery.
The film's promo website features an interactive "crime scene" where layman detectives can click on particularly suspicious pieces of evidence.
On a seat toward the left side of the screen, there's a curious piece of paper which, upon closer inspection, reveals itself as the train ticket for Ridley's character, Mary Debenham. On a recent ">EW cover photo, Debenham is seen holding a similar ticket — except this one has a ticket number on it.
When you enter the number into a data field at the crime scene, you can "unlock" a series of stalkery photos that Ridley's character, a governess, took of her passengers before the murder. The photos, which include a picture of Detective Poirot boarding the train, suggest Miss Mary Debenham has a possibly unnatural interest in her fellow passengers.
2. Penelope Cruz's character has some "past and future sins" to address.
There's a blink-and-you'll-miss it silver coin on the floor of the website's crime scene. If you click on it, you'll find a tall, robed goddess-like woman.
After some headache-inducing searching on the movie's promotional poster, you can find an almost microscopic icon at the very bottom that features the same woman.
When you Google the phrase "The Martyr of Sicily" — found on the icon pictured below — you'll learn the mysterious goddess-like woman is none other than Saint Agatha, in a sly nod to Agatha Christie.
According to the Internet, Saint Agatha is the patron saint of breast cancer patients, martyrs, wet nurses, bell-founders, fire, earthquakes, and — weirdly enough — eruptions of Mount Etna.
Type in Agatha's name at the crime scene to discover a prayer card owned by Pilar, Cruz's missionary character. Pilar's handwritten prayer to Saint Agatha includes a plea for the strength to "overcome [her] past and future sins." Perhaps one of those sins could have included murder?
3. Leslie Odom Jr.'s character has a dirty little secret.
The final clue is the trickiest to spot. There's a pipe in the website's crime scene near the suspicious photographs, and it takes a hot second to notice a pipe just barely showing on the table in front of Leslie Odom Jr.'s character in the trailer. Look for it in the scene where the camera, subbing in for Poirot, moves across a train car containing all of the film's major suspects.
Now on to the mystery. Odom Jr.'s character is labeled as "The Doctor" in the trailer, and when you type this phrase into the clues website, you discover a whole set of love letters from a secret admirer. Assuming these are addressed to the doctor, we can theorize Ridley's character — who makes lovey-dovey eyes at Odom Jr. in the trailer — sent these.
Interracial relationships were a bit taboo in 1934, so it makes sense these two would have to keep their love affair private. What grabs our attention is a particular sentence in one of the letters: "These murderously long days that separate us seek to drive me to madness." MURDEROUSLY. Why would someone use that word if murder weren't already on her mind? Ridley's character is looking super suspicious, y'all.
Murder mystery fans and Christie lovers will already know the identity of the murderer, of course, but the rest of us will have to wait until November to find out who's guilty.