What time is Trump's climate announcement? When and where to watch the president's decision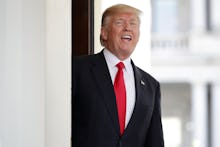 President Donald Trump has held the world in suspense for almost a week on whether he'll renege on the Paris climate agreement adopted in 2015 by then-President Barack Obama and 194 other countries.
Trump will announce his decision on the deal at 3 p.m.
Watch a livestream of the event below.
Reports on Wednesday indicated Trump has already made his decision to withdraw from the agreement, defying the wishes of hundreds of U.S. businesses — including oil and coal companies — and foreign dignitaries at the G7 summit in Italy last week.
Last-minute lobbying efforts from U.S. businesses have been going on all week.
The United States is one of the world's largest CO2 greenhouse gas emitters, adding 14% of the world's CO2 emissions to the atmosphere in 2014 alone.
Withdrawing from the Paris agreement could damage the United States' credibility with its allies, according to CNBC.
Other Paris agreement signatories, including China and European Union members, have vowed to stick with the plan even if the United States reverses course.