Senators who urged Trump to leave Paris climate accord took millions from oil companies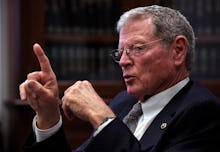 President Donald Trump announced his intention to withdraw the United States from the Paris Climate Accord on Thursday, sending shock waves through the international community and environmentalists and business leaders at home.
Trump's decision came at the urging of 22 Republican senators in a letter to the White House dated May 25. Between them, those Republicans have received nearly $32 million in campaign contributions from the energy sector and $18 million from the oil and gas industry, records show.
Mic looked at campaign finance data from the Center for Responsive Politics for all 22 GOP senators who urged Trump to quit the Accord and found that all have received contributions from the energy sector and oil and gas industry and, in many cases, those industries were among their largest contributors.
Sen. Jim Inhofe (R-Okla.), who spearheaded the effort to convince Trump to withdraw from the historic accord, has accepted $2,997,048 from the energy sector since 1989, records show. His largest single donor, Devon Energy, is one of Oklahoma's biggest oil and gas companies.
In 2014, the New York Times reported that Devon worked behind the scenes with several state attorneys general to oppose environmental regulations enacted by the Environmental Protection Agency under the Obama administration. Lobbyists for Devon drafted a letter for then-Oklahoma Attorney General Scott Pruitt railing against regulations enacted by the the Obama administration's Environmental Protection Agency. Pruitt copied the letter, nearly word-for-word, to his letterhead; signed it; and sent it to the EPA. Pruitt became head of the EPA under Trump in February.
Inhofe has also accepted $95,000 from Murray Energy, one of the nation's largest coal miners, records show. Federal Elections Commission staff found "a strong, persistent pattern" that Murray pressured its employees to donate to 2012 Republican presidential nominee Mitt Romney, but Republicans in charge of the commission decided in 2016 not to pursue charges against Murray Energy.
Murray Energy founder and CEO Robert Murray is an outspoken critic of the Paris climate accord.
Murray also donated $44,781 to Sen. John Barrasso (R-Wyo.) and $23,00 to Sen. James Risch (R-Idaho), records show.
Records show that Sen. John Cornyn (R-Texas) has taken more money from the oil and gas industry than any other lawmaker that signed Inhofe's letter — more than $3 million since 2001. Cornyn's biggest single donor is ExxonMobil, whose shareholders recently demanded the company "report on the impact of global measures designed to keep climate change to 2 degrees centigrade" against the wishes of ExxonMobil management, the Washington Post reported. Exxon, however, has publicly come out in favor of the Paris accord.
Several of those who signed the letter, including Senate Majority Leader Mitch McConnell (R-Ky.), Sen. Roy Blunt (R-Mo.) and Sen. Mike Enzi (R-Wyo.) accepted donations from Peabody Energy, which has been locked in a legal struggle with former employees over its refusal to pay pensions and health benefits for 12,000 retired miners. McConnell took $169,500 from Peabody, Blunt took $125,250 and Enzi took $33,650. Enzi also took $34,000 from the National Mining Association, of which Peabody is a member.
The accord, an international agreement signed by all but two countries — Syria and Nicaragua — is widely believed by environmentalists, scientists and many economists and industrialists to be vital to curtailing climate change.
Correction: June 2, 2017