June Game Releases 2017: Five of the best video games coming out this month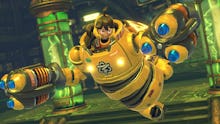 June is shaping up to be a pretty excellent month for new video-game releases, whether you're into role-playing games, fighters or platformers. Since there are so many awesome titles coming down the pipeline, you might want to make sure you keep your bank account locked and loaded — but if you can't decide between what's coming out, below are five safe bets you'll definitely want to nab. 
With E3 2017 around the corner, you'll be so flooded with new game information that it might be difficult to get to some of these, but try to carve out some time in your schedule for these goodies. 
1. The Elder Scrolls Online: Morrowind
The Elder Scrolls Online is introducing Morrowind into its swath of content, so if you've been looking for a reason to jump into the massive multiplayer online role-playing game for some time, June is a great time to do it. Starting Tuesday, explore the island of Vvardenfell and enjoy a new player class, 30 additional hours of story content and a new PvP mode.
2. Arms
The upcoming Nintendo Switch fighter Arms isn't due out until June 16, so that should give you plenty of time to figure out which character you might want to play. Combatants will square off against each other using springy arms, hair, bandages or other parts of their bodies with long-range skirmishes or up-close-and-personal fights. A brand-new IP from Nintendo, this fighter is going to be a hit for Switch owners. 
3. Crash Bandicoot N. Sane Trilogy
Any fan of classic Crash Bandicoot platformers will no doubt want to get their hands on the Crash Bandicoot N. Sane Trilogy, which collects the first three original Crash Bandicoot games in one convenient package. With HD graphic updates and a convenient location on PlayStation 4, you can travel back to a simpler time for platforming games and mascots. You can also spend a whole lot of time playing Crash Bandicoot: Warped, one of the best Crash games ever made, in my opinion. It's dropping June 30. 
4. Valkyria Revolution
This spinoff of the vastly popular Valkyria Chronicles series, Valkyria Revolution, is releasing on June 27. It will combine both role-playing and strategy elements with a narrative inspired by the European industrial revolution, rather than the last games' World War II. Players will control the commanding officer of the small country of Jutland's anti-valkyrie unit, Amleth. 
5. Ever Oasis
Ever Oasis, a 3DS role-playing game, will launch June 23, bringing with it a fantastical tale of Tethu — a young seedling on a quest to find her older brother, who's been taken by the forces of Chaos. Players will embark on a quest to find Tethu while also creating an oasis in the desert and leading a party throughout several dungeons. It's an adorable riff on RPGs that will likely appeal to a wide audience. 
Check out more video game content on Mic, including which Pokémon are actually the best and why black players can never seem to get custom characters that look like them. Learn more about how blind gamers are getting in on the fun and don't miss our guide to dodging blue shells in Mario Kart 8 Deluxe — you can thank us later.