World leaders reaffirm their commitment to the Paris agreement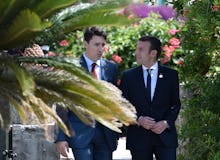 On Thursday, President Donald Trump announced that the United States will withdraw from the historic Paris climate agreement.
During an address delivered in the White House Rose Garden Trump said that while the U.S. will leave the agreement — which is a pact signed by 195 nations to reduce greenhouse gas emissions and curb global warming — he will immediately begin negotiating a "deal that's fair," Mic reported.
As Trump spoke, political leaders around the globe took to social media to share their dismay at his decision and to reaffirm their own commitment to the accord.
In a tweet, Vicente Fox Quesada, Mexico's president from 2000 to 2006, said Trump is "declaring war on the planet itself."
Without mentioning Trump, Miguel Arias Cañete, the European Union's commissioner on climate action and energy, stated that, no matter what, the Paris agreement will endure.
Kathleen Wynne, leader of the Ontario Liberal Party said on Twitter that Canada and her city will continue to lead on climate action.
Canadian Prime Minister Justin Trudeau also shared his disappointment in Trump's political move.
Scotland's First Minister Nicola Sturgeon called the decision to pull out of the agreement an "irresponsible decision" by Trump, but noted that she's pleased to see leaders like California's Governor Jerry Brown push on.
Prime Minister of Denmark Lars Rasmussen echoed many Twitter users on Thursday when he simply stated, "it's a sad day for the world."
Belgian Prime Minister Charles Michel sent several tweets about the matter, saying in one that Trump's actions are a "brutal attack" on the accord.
And France's new president, Emmanuel Macron, made it perfectly clear that he will not take part in any renegotiation of the agreement.
Macron also took a page out of Trump's own book, ending his speech with "make the planet great again!"