The Climate Mayors have a message for Trump following Paris agreement withdrawal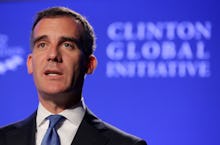 On Thursday, President Donald Trump announced the United States will withdraw from the historic Paris climate agreement.
"In order to fulfill my solemn duty to protect America and its citizens, the United States will withdraw from the Paris climate accord," Trump said in his speech in the White House Rose Garden, Mic reported. He added that the U.S. would re-enter the Paris accord or an entirely new agreement "on terms that are fair to the U.S."
In response to his announcement, a group of 61 mayors representing 36 million Americans who call themselves the "Climate Mayors" released a statement condemning the president's actions and promising they will continue with the spirit of the accord, with or without Trump.
"We will adopt, honor and uphold the commitments to the goals enshrined in the Paris agreement," the group's statement read. "We will intensify efforts to meet each of our cities' current climate goals, push for new action to meet the 1.5 degrees Celsius target and work together to create a 21st century clean energy economy."
The group, which includes Los Angeles Mayor Eric Garcetti, Boston Mayor Martin J. Walsh, New York City Mayor Bill de Blasio and Chicago Mayor Rahm Emanuel added that it will remain committed to increasing investments in renewable energy and energy efficiency. It will additionally increase its efforts to cut greenhouse gas emissions, create a clean energy economy and "stand for environmental justice."
The group ended its letter noting that if Trump plans to break his promises, "we'll build and strengthen relationships around the world to protect the planet from devastating climate risks."