Kellyanne Conway hopes Hillary Clinton gives herself the gift of "self-awareness"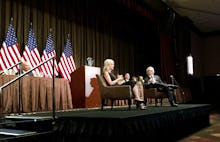 Kellyanne Conway includes Hillary Clinton in her prayers each and every day.
"I thank God every morning," the White House counselor said while discussing Clinton with a gathering of conservatives in New York City on Thursday night.
"I say these three things, like Dorothy clicking her heels, every morning: 'She is not the president. She is not the president. She is not the president.'"
If Clinton isn't yet done with the postmortem of her failed 2016 bid, Conway — the conservative pollster and strategist credited with helping pull the volatile Trump campaign across the finish line — seems fine with that.
"Yes, it was her fault she lost," Conway said of Clinton after accepting an award at a gala dinner at the Sheraton New York in Midtown.
"A gift that all women can give to themselves is self-awareness, and so I hope she finds some soon."
Returning to public life after a post-election break, Clinton has blamed everything from misogyny to overblown coverage of her private email server controversy for her loss to Trump.
That has spurred critics and even some supporters to question why she hasn't taken more personal responsibility for missteps that contributed to the collapse of her second White House bid.
Conway — whose verbal contortionist acts in her candidate's defense helped popularize the concept of "alternative facts"— said Thursday that compared with Trump, Clinton ran a "joyless," message-free campaign.
"I was worried day and night that that Hillary Clinton was actually going to wake up one day and say, 'You know what, guys? After eight years when I lost the first time, after eight long years, today's the day I'm actually going to have a message,' but it never happened," she said. "My fears never came to be."
During a question-and-answer session, Conway also faulted government ethics authorities — not White House turmoil or the deterrent of ongoing federal investigations — for slowing Trump administration hiring to a crawl.
"We really have been held up quite a bit by the Office of Government Ethics. I know really good people who have submitted their FBI forms [and] don't have a confirmation date yet; don't have a hearing date yet," she said.
"We're really disincentivizing great men and women from serving, because they don't know if they should move their families to Washington and they have to give up their businesses and divest," Conway continued.
"There's already so many disincentives built into the system for patriotic men and women to not serve, believe me, but now we're adding to that."
Conway didn't stick around for dinner, but gamely posed for selfies with fans and took a few questions from reporters.
On her way out, she said she believes continued leaks imperil national security — and that Trump would continue to use Twitter as a way to reach the American public directly despite both gaffes (read: covfefe) and legal warnings.