'Fire Emblem Warriors' Switch: New characters revealed for hack and slash Nintendo game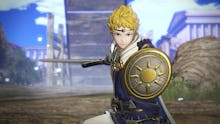 Fire Emblem Warriors is the latest Fire Emblem game touching down on the Nintendo Switch and Koei Tecmo has just launched its official Japanese site. Among the rest of the goodies on the site are screenshots of the upcoming title, some of which feature the two new characters exclusive to Fire Emblem Warriors: Shion and Lian. 
According to GameSpot, the twin protagonists made their first appearance recently in the latest issue of Famitsu, but this is a good, proper look at them in action. 
Fire Emblem Warriors: What we know about Shion and Lian
Fire Emblem Warriors' Shion and Lian will be playable characters in the upcoming hack-and-slash game, along with several other Fire Emblem characters. Similar to the long-running Dynasty Warriors series, there will be plenty of baddies to cleave through, if that's your thing. 
It'll still incorporate more traditional Fire Emblem elements, like the weapon triangle, support conversations and the fundamental differences between classes. If you like your "kill everything that moves" games with a hint of strategy, this should be right up your alley. 
It isn't exclusive to the Switch, however. It will also make an appearance on the Nintendo 3DS when it arrives later this fall. At this point, there isn't a concrete release date yet, though it's safe to say E3 2017 could very well bring additional details on one or both versions of the game when the show takes place next week.
Check out more video game content on Mic, including which Pokémon are actually the best and why black players can never seem to get custom characters that look like them. Learn more about how blind gamers are getting in on the fun and don't miss our guide to dodging blue shells in Mario Kart 8 Deluxe — you can thank us later.