Portland Free Speech Rally: Federal authorities brace for clashes at Sunday's dual protests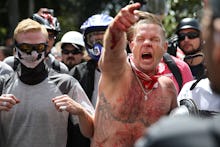 Despite their calls for peace, progressive leaders in Portland, Oregon, fear violence may be imminent Sunday when pro- and anti-Donald Trump protesters clash during competing high-profile rallies downtown.
Authorities from the FBI, Department of Homeland Security and the U.S. Attorney's Office will be present at the events in support of Portland police.
Libertarian activist and organizer Joey Gibson of the group Patriot Prayer has refused to cancel his previously planned Trump Free Speech Rally in the aftermath of the death of two men who were defending two teen girls — one Muslim, one black — on a Portland, Oregon, light rail.
Jeremy Joseph Christian, a reported white nationalist, was arraigned Tuesday for allegedly stabbing three men in the neck on May 26, two of whom died, for defending the two women of color after Christian bombarded them with racist rhetoric, according to police.
The attack occurred less than a month after Christian was seen giving the Nazi salute at a March for Speech rally Gibson organized in Portland.
Despite the correlation and subsequent uproar, Gibson is proceeding with Sunday's rally, regarding it as an opportunity to share his message with a larger audience.
"In my own heart, what's really important to me is we send a message of freedom," Gibson told Mic in an interview late Friday. "We talk about spirituality. We really want to promote peace."
Gibson said the rally will be safe thanks to local and federal law enforcement authorities he has discussed security protocols with in preparation for Sunday.
"There's a lot of weird rules," Gibson said. "We can't have mace. We can't have shields. They're going to search bags of everyone coming in. No one from our side is going to be allowed to cross the street to the protesters."
One of Gibson's Trump rally co-sponsors is reported alt-right leader Kyle Chapman, who goes by the name "Based Stickman" online. Chapman is the founder of the Fraternal Order of Alt-Knights. On April 15, some of his alt-right followers brawled in the streets of Berkeley, California, with demonstrators who embrace the progressive, militant anti-fascist philosophy known as antifa.
Groups bearing the antifa moniker are based in major cities across the United States, including New York City, Los Angeles, Houston and Atlanta, as well as Portland.
The latter group calls itself Rose City Antifa (Portland's nickname is "City of Roses.")
Antifa groups have been seen demonstrating wearing black clothes and masks, a resistance tactic known as black bloc. They support using violence to confront racists and police officers they often see as adversaries, several Portland-based activists told Mic.
Antifa demonstrators has been among the progressive groups routinely trying to shut down conservative speaking engagements on college campuses, actions alt-right leaders have used as a "free speech" rallying cry to their supporters.
Rose City Antifa states on its website that its members are prepared for yet another fight Sunday.
"We are unapologetic about the reality that fighting fascism at points requires physical militancy," the group wrote. "There are groups in attendance that will be prepared to handle physical opposition, and all those compelled are welcome to join in that effort."
Threats of violence
The day after Christian's alleged racist rampage, Rose City Antifa reportedly posted flyers at a vigil for the victims in Portland, announcing plans to violently disrupt Sunday's pro-Trump free speech rally.
The flyers feature an illustration of Leatherface, from the Texas Chainsaw Massacre franchise, splitting President Donald Trump's head open with a chainsaw.
Chapman responded to the flyers Thursday on Twitter and Facebook by declaring "open season" on antifa, calling for more alt-right demonstrators to join him Sunday to "smash" antifa protesters "on sight."
Gibson told Mic he was "disappointed" by his co-sponsor's tweet, which has since been deleted.
"I called him after the tweet," Gibson said. "He apologized and said he'll put out another tweet. He seriously thought [the police] were going to stand down. Everyone was making it sound like it's going to be a war zone, but it's not."
Nico Judd of the Portland International Socialist Organization isn't so sure. Her group is one of at least 55 sponsoring the Portland Stands United Against Hate gathering Sunday at city hall, across the street from the planned Trump rally at Terry Schrunk Plaza.
At press time, 446 people said they're going to the Trump rally and another 1,300 plan to attend the anti-hate rally, according to both events' Facebook pages.
"They're out for blood," Judd said of the alt-right on Friday. "They're calling Sunday's event another 'Battle of Berkeley.'"
Bloodshed was rampant when antifa and alt-right extremists all but waged war at the University of California, Berkeley, on April 15, throwing fists and bottles and shooting fireworks at each other, resulting in at least 20 arrests and 11 reported injuries.
They faced off again at Berkeley on April 27 after progressive activists shut down an Ann Coulter speaking event. No one was injured during that confrontation, but five people were arrested.
For Sunday's protests, Rose City Antifa, after reportedly hearing pleas from its less-radical, progressive counterparts, announced plans to host its own separate, but adjacent rally to confront the alt-right Trump supporters.
Hurting their own cause
Antifa's militant actions often do more than put racists in their place, according to some of the groups' nonviolent progressive allies.
At a May 1 May Day march, mask-wearing antifa members channeled Kendall Jenner's recent tone-deaf Pepsi ad by reportedly chucking Pepsi cans at police in the streets of Portland.
Their actions prompted officers to shut down the event organized by other local progressive leaders, tainting public perception of their cause, activists told Mic.
Judd was at that protest, and members of her group have since spoken out against the violence on their blog.
"We felt that it was important to make a distinction between who the Left is and the tactics of one specific group and the decisions that they made," she told Mic in an interview.
"We've reached out to [Rose City Antifa] just to ask them to please respect what we're trying to do [Sunday]. We ask that they don't come into our rally. There's a lot of people in this town that want to paint all of us as antifa."
Fellow anti-hate rally organizer Seemab Hussaini of the Council on American Islamic Relations shares Judd's sentiment.
The 40-year-old is originally from Los Angeles and recalls living through the 1992 riots in that city, when young people angry about the acquittal of the police officers who beat Rodney King on video ripped a white man named Reginald Denny out of his truck and onto the street, beating him bloody and nearly killing him.
"I know lots of my friends growing up that were part of the violence," Hussaini said. "I empathized with their anger, but they need to learn a lesson quickly and mold it into something peaceful and nonviolent. You can't say we accept violence as an answer."
On May 27, Hussaini visited a candlelight vigil in Portland's Hollywood District for the transit victims, Army veteran Rick Best and Reed College graduate Taliesin Myrddin Namkai Meche.
While he was there, Hussaini encountered more sad and angry young people who were fed up with the recent ongoing string of fatal attacks involving white supremacists, and the national rise in hate crimes since the start of Trump's presidential campaign.
One of the youths who spoke at the vigil invoked the philosophies of Malcolm X in proposing a violent response to Christian and the alt-right, according to Hussaini.
"'By any means necessary.' That tune had to evolve eventually," Hussaini said of Malcolm X. "Antifa has to evolve. But they have a better chance of evolving than the alt-right."
Rose City Antifa did not respond to Mic's multiple requests for comment.