Reminder: Trump hasn't named leaders for hundreds of government positions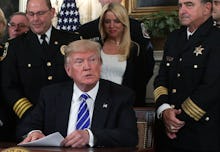 Thursday, June 1, marked the official start of hurricane season in the United States. As Mic previously reported, the National Oceanic and Atmospheric Administration is predicting an above-average hurricane season, with the U.S. facing a potential 11 to 17 named storms (storms with winds above 39 mph) in 2017.
And if just one of those storms makes landfall it could spell serious disaster, costing taxpayers millions in cleanup.
But here's the rub: Neither the NOAA, the organization that tracks hurricanes, or the Federal Emergency Management Agency, the organization in charge of cleaning up disasters, are prepared for a high-volume hurricane season as both groups are still without leaders. Why? Because President Donald Trump has either not named them or they have yet to be confirmed.
"That should scare the hell out of everybody," retired U.S. Lt. Gen. Russel Honoré, who commanded Joint Task Force Katrina, told CNN. "These positions help save lives."
Though both organizations stated they are prepared to deal with whatever hurricane season throws their way, Honoré said it's simply not possible to run them without a permanent leader.
"Just look back to Hurricane Katrina to see how important leadership was. If someone is slow in making decisions it can be costly — imagine having no one at all," Honoré told CNN.
And while it's slightly alarming that Trump is more than 130 days into his presidency and has yet to appoint leaders to these critical roles, it is perhaps more distressing that Trump has also yet to nominate anyone for more than 440 positions, according to tracking by the Washington Post and Partnership for Public Service.
According to the tracker, which was last updated on May 29, positions still open in the Trump White House include chief financial officer, legal adviser, assistant secretary for oceans and international, environmental and scientific affairs, director of the office of foreign missions, assistant secretary for Western Hemisphere affairs, chief of protocol, 38 different ambassador roles and more.
While it may not seem like a massive lapse in presidential judgement to leave so many roles unfilled, doing so could potentially lead to catastrophe during a crisis.
"In virtually all unfilled positions, there will be an acting individual who is performing the functions of the job, but it's like having a substitute teacher," Max Stier, CEO of the Partnership for Public Service and the Center for Presidential Transition, told Business Insider. "They're not perceived as having long-term authority and they don't view their jobs as lasting, so they're not going to be making judgments based on a long term vision, or making hard choices."
Stier added that usually, with a crisis involving the government, it will occur across multiple agencies. And if a large number of positions are unfilled, "you just don't have a team operating as well as a team should."