What do HIV long-term survivors think of life in Trump's America?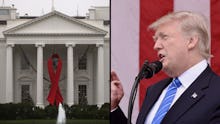 Dee Dee Chamblee, 56, received concurrent HIV-positive and AIDS diagnoses in Atlanta 30 years ago. When she received her diagnosis, she had only three T cells — she called them the Father, the Son and the Holy Ghost.
Chamblee, a black transgender woman, was diagnosed at a time when an AIDS diagnosis often didn't translate into a long life.
"It was like a holocaust," Chamblee said in an interview. "There were so many people dying in one week that we couldn't keep up with who was dead."
Like many long-term survivors — people who have lived with HIV for more than 20 years — Chamblee never thought she would live to see her fifties. But, after the arrival of highly active antiretroviral therapy in 1996, an increasing number of people have. Now, about 59% of those living with HIV in the US are over 50.
By 2020, that number will be 70%. Not all of those people are long term survivors — some may have been diagnosed in their forties or fifties — but many of them are.
Many long-term survivors live at a dangerous nexus. They face the general disregard with which society treats elderly people. Often, they have lost many close friends in the epidemic, and so endure debilitating loneliness and isolation. And they all face the complicated reality of growing older with HIV.
Some believe that these realities may become more debilitating under a Trump presidency.
"You can't live in a world with Trump and not be worried about your medical future," Sean McKenna, a 54-year-old long-term survivor, said in a phone interview.
McKenna says that for many like him, their diagnosis meant they didn't plan for the future. They had no money saved. They lost their jobs. Many rely on disability as a result of years of living with HIV, toxic medications and general old age.
Trump's American Health Care Act threatens to jeopardize the systems meant as a lifeline to older Americans and those with HIV, which is a pre-existing condition. The safety net of Medicaid has been threatened. Even parts of the Ryan White Care Act, meant to fund care for HIV-positive people, face cuts under Trump's proposed budget, which think-tank advocacy organization Treatment Action Group called "murderous."
"It's really a period of uncertainty and vulnerability that may very well gut the basic safety needs that keep a lot of long-term survivors alive," Eric Sawyer, vice president of public affairs and policy at New York AIDS advocacy organization GMHC, said in a phone interview.
Even if the federal safety nets were to stay intact, many survivors are watching their health and their friends' health become a concern again after years of thriving.
"It's an epidemic that no one sees," McKenna said. "We're the only ones who understand each other."
Together with GMHC, McKenna revived one of its original services, the Buddy Program, in 2015. The program pairs a long-term survivor with a volunteer who offers in-person companionship once a week.
But such a program is rare. Chamblee says that in Atlanta, there are no services aimed specifically at long-term survivors.
Though McKenna continues his advocacy for long-term survivors, he still underscores the need for a long-awaited cure.
"Until there's a cure, we're just pharma rats," he said. "Until there's a cure, we're all long-term survivors."