Jeronimo Yanez's trial over Philando Castile's death begins with a mostly white jury in Minnesota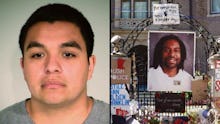 The jury that will decide the fate of St. Anthony, Minnesota, police Officer Jeronimo Yanez is mostly white, the Minneapolis Star Tribune reported as opening statements were heard in the officer's second-degree manslaughter trial on Monday.
In a St. Paul courtroom, lawyers for the defense and prosecution whittled down the jury pool from 23 prospective jurors to nine men and six women, including two people of color. At least one of the nonwhite jurors is a woman of Ethiopian descent, according to Minnesota Public Radio.
Three of the jurors will serve as alternates.
Yanez fatally shot Philando Castile during a traffic stop over a broken tail light in the majority white St. Paul-Minneapolis suburb of Falcon Heights on July 6, 2016. The officer also faces two felony counts of dangerous discharge of a firearm, for endangering the lives of Castile's girlfriend, Diamond Reynolds, and her 4-year-old daughter, who were passengers. Reynolds livestreamed the aftermath of the shooting to Facebook, helping the case attract national attention and sparking days of protests in 2016.
The officer has pleaded not guilty, and is expected to testify in his own defense. If convicted of manslaughter, Yanez faces up to 10 years in prison and a $20,000 fine, according to MPR. Each firearm charge carries up to five years in prison and $10,000 fine.
In recent high-profile cases police shootings with black victims, race has been an inextricable factor in how both sides select jurors and present their arguments. Yanez is Mexican-American and Castile is African-American. Prospective jurors were reportedly asked whether they harbor negative opinions about Latinos, blacks and the police.
But the racial identities of the officer and the victim will ultimately be minor details when the jury deliberates. Jurors in police manslaughter cases are often asked to consider whether the officer's use of lethal force was reasonable given a narrow set of circumstances preceding the violence, policing experts say.
Editor's Note: The following video contains graphic images and profanities.
In this case, Yanez pulled Castile over for a broken tail light and asked for his identification. In the process of retrieving his ID, Castile reportedly informed Yanez that he was armed and had a legal permit to carry a gun in the state of Minnesota.
Yanez then told Castile not to reach for his firearm, to which Castile reportedly replied that he wasn't. But within seconds of that exchange, Yanez fired multiple shots into the open driver-side window. The officer's attorneys have said they plan to argue that Castile's own actions and responses to Yanez caused the shooting.
Jurors will have to decide, based on testimony and evidence presented during trial, if Yanez was reasonable in his fear that that Castile was reaching for the announced gun. The law does not require that Yanez be right in his assumption, in order for him to be acquitted of wrongdoing.
Still, for Yanez's lawyers, proving their client wasn't being negligent in the shooting will be challenging. Reynolds told her livestream audience that Castile was reaching for his wallet, not his firearm.
According to the local prosecutor, Castile's last words, as he slouched over bleeding from Yanez's bullets were, "I wasn't reaching for it."
June 5, 2017, 5:08 p.m. Eastern: This story has been updated.