Does Gen Z think about money differently than millennials? Here's what research shows.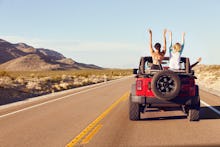 You've heard all about how millennials manage money, as well as career and financial decisions. But what about their kid brothers and sisters? It turns out research suggests Generation Z isn't as freaked out by adulting as were previous generations, especially when it comes to money.
That's right: Younger Americans are not only squirreling away money they earn from their after-school jobs, they're also already planning for retirement. Debates rage about when the Millennial generation ends and Gen Z begins, but Jason Dorsey, president of the Center for Generational Kinetics, a consulting firm, says Gen Z includes anyone who can't remember 9/11 happening or those born after about 1996.
For 20-year-old Eryn McIntyre of Pembroke Pines, Florida, being careful with money has been vital to her long-term financial survival, especially when it came to choosing where to study after high school: "When it came to deciding on college, I purposely chose a school that would not leave me in debt when I graduated," she told Mic. "I also saw what happened to many of my friends' parents and families during the Great Recession, and because I never want to be in that position, I am already very aware of how I save and spend money."
Indeed, at least one in five Gen Z respondents in a 2017 study by the Center for Generational Kinetics said debt should be avoided at all costs. That's even reflected in young people's feelings about higher education: "Generation Z is intentionally choosing to attend a less-expensive college so they can graduate with less debt," Dorsey said to Mic by phone. "No or less debt means they can enter the job force with more mobility, allowing them to take a job they really want that may pay less, because a good amount of their salary won't be going to a college fund."
But avoiding debt isn't the only financial signature of today's teens. How does Gen Z view money in general — especially compared with millennials, given that Gen Zers grew up even more immersed in a digital landscape, with electronic payments and automation accepted as the norm? Here's what research shows.
How Gen Z views money
In addition to avoiding debt like the plague, Gen Z puts a high priority on saving money, with 21% in the Center for Generational Kinetics study saying they've had a savings account since before age 10.
Other research finds that 89% of Gen Z respondents said they were particularly optimistic about their financial future — compared with 83% of millennials and Gen Xers and 78% of baby boomers, in a 2016 Lincoln Financial Group study. That hopefulness might be because, in addition to having more time until retirement (and graduating during a bull market), younger savers are stashing cash more fastidiously than older generations.
At least 64% of Gen Zers in this study said they had their own savings account, as opposed to 51% of older savers.
Gen Z's attitude toward college
About 70% of the Gen Zers polled in the Lincoln Financial study said they think student loan debt will make future financial planning a challenge. Many students are taking college costs into their own hands, as 38% of the participants in the Center for Generational Kinetics study said they plan to work while in college to offset costs and 24% will use personal savings to help pay for college.
"The mindset used to be that you would go to the best college you could get into and then get loans in order to pay for it," Dorsey remarked. "Now, just the opposite is occurring where students look for the best financial academic situation rather than just take loans and go into debt."
Similarly, millennials feel so burned by college debt that 56% of millennial parents have already started saving for their young children's college funds, according to Sallie Mae's How America Saves for College 2016.
Gen Z is saving for retirement (already)
While retirement may seem like light-years away, Gen Zers are making retirement savings a priority, even while still in their teens. Although Gen Zers are still in their teens and early 20s, the Center for Generational Kinetics reports 12% of Gen Z say they have already started saving for retirement and 35% say they plan to start saving in their twenties.
Beyond simply socking away cash for the future, Gen Zers are thinking about where they will get the money for retirement. At least 52% in the Center for Generational Kinetics study said they planned to pay for retirement with personal savings, 28% will continue to work and 26% will depend upon government assistance.
While millennials rely on the same money buckets for retirement, 59% said they plan to use savings, 34% will keep working, and 33% will lean on government programs in retirement.
How Gen Z compares to millennials on money
Although Gen Z directly follows the Millennial generation, they share similarities and differences.
"One of the biggest differences we found in our research was that while both generations experienced the Great Recession, Gen Z did not experience it professionally, the way millennials did," Dorsey said. "Gen Z saw millennials struggle with wage stagnation and huge college debt, so they took note and are making a conscious effort to approach money and debt differently."
However, one way Gen Zers and millennials are similar is in their attitude toward credit and credit card use: Both generations have the lowest average balance and lowest average credit card debt of all current generations, according to Experian's 7th Annual State of Credit.
How Gen Z spends money
When it comes to spending, Gen Zers expect to get more for their money. They want a high speed of delivery and become more annoyed than other generations when things break, reports Business Insider.
They also opt for utility and quality over brand, Dorsey said: "This attitude is creating a major impact on brands, because Gen Z would rather own something without the logo and spend less than pay for the brand." Millennials are more brand loyal and more likely to give a retailer a second chance than are Gen Zers, by comparison.
Speaking of paying, while those in Gen Z are more conservative with money than recent generations, they have more access to digital payments. Nearly half of the Gen Z respondents in the Center for Generational Kinetics study said they had mobile or payment apps on their phones, and only 46% had been inside a financial institution within the last month.
Although making purchases by smartphone is commonplace for Gen Z, 70% of older adults (Gen X and older) who own a smartphone, laptop or tablet use their devices to make purchases, according to a 2016 study by AARP.
At least 35% of the respondents polled in a National Retail Federation study said they use an app to make purchases and 54% use a web browser. Needless to say, Gen Z is more likely to split the bill for dinner using Venmo than cash.
Impact of Gen Z growing up in a cashless society
If Gen Zers are so conservative with their money, how are they able to show financial restraint while growing up in a cashless society? A number of downsides exist for consumers living in a cashless society, Utpal Dholakia Ph.D. pointed out in Psychology Today, because shoppers typically spend more money when handling plastic versus cash.
Using a credit card is less painful because the financial impact is not immediate and people can use their credit cards to make a variety of purchases, he said. Ultimately, consumers end up spending more.
Spenders also tend to make less-healthy choices when they spend with plastic and have less of an emotional attachment to the item purchased with a credit card versus with cash, Dholakia added. Other studies echoed Dholakia's assertion, so how does Gen Z fare being more technology driven?
Gen Zers are arguably less likely to be reckless spenders with technology or credit because they are digital natives and technology might be their first (or only) experience with being a consumer — essentially the only way they know how to spend money, Dorsey explained. "Not carrying cash is only weird to those who are accustomed to carrying cash," he added.
The generation least likely to do well living in a cashless society might actually be Gen X: GoBankingRates found young Gen Xers carry the most credit card debt across the board. Approximately 46% of Gen X respondents carries a credit card balance, mainly due to overspending and anemic cash flow.
While Gen Z seems to parrot more how their grandparents spend and save, they have a very different set of experiences than older Americans, with no recollection of having to fight dial-up internet, or carrying quarters in order to make a phone call at a pay phone. They move and work faster using technology — but they cling to money-saving habits reminiscent of those borne of the Great Depression.
For more information about Gen Z, check out Mic's story on key financial lessons millennials can teach the youngest generation. And take this short quiz to see if you are better with money than a 15-year-old.
Sign up for The Payoff — your weekly crash course on how to live your best financial life. Additionally, for all your burning money questions, check out Mic's credit, savings, career, investing and health care hubs for more information — that pays off.