Acting US ambassador to China quits over Trump's Paris agreement decision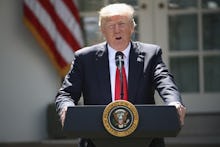 David Rank, the acting U.S. ambassador to China, has stepped down from his post following President Donald Trump's decision to exit the Paris climate agreement, the Guardian reported.
A state department spokeswoman confirmed Rank's departure to multiple outlets, including the Guardian and CNN, but did not cite the Paris climate agreement as the reason behind his decision.
"He has retired from the foreign service," Anna Richey-Allen, a spokeswoman for the department's East Asia bureau, told the Guardian. "Mr. Rank has made a personal decision. We appreciate his years of dedicated service to the state department."
As CNN reported, Rank has been working as a foreign service officer since 1990 and was appointed the deputy chief of mission at the U.S. embassy in Beijing in January 2016.
Jonathan Fritz, the embassy's economics councilor, will immediately serve in his place, Richey-Allen told the Guardian, until the arrival of Iowa Gov. Terry Branstad, who was confirmed by Congress in late May.
As CNN noted, Rank isn't the only foreign official to publicly disagree with Trump in the past few days. Lewis Lukens, the acting U.S. ambassador to the United Kingdom, defiantly tweeted his support for the mayor of London, Sadiq Khan, after Trump lashed out at Khan following the latest terror attack in London, which claimed the lives of at least seven people.
Trump has yet to nominate his choice to take over as the ambassador to the U.K., along with several hundred more unfilled roles.