NSA Document Leak: What to know about Reality Winner and the secret Russia report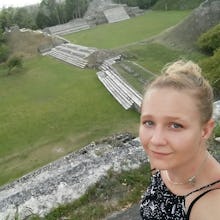 The Department of Justice announced Monday evening that it had charged Reality Leigh Winner, a 25-year-old National Security Agency contractor, with "removing classified material from a government facility," making Winner the first alleged leaker charged under the Trump administration.
News of the charges came less than an hour after the Intercept, a national security news site, published a bombshell report about Russian meddling in the 2016 presidential election.
While the Justice Department hasn't confirmed that Winner was arrested in connection with the Intercept's report, Reuters, the Washington Post and NBC News, among others, reported that Winner's arrest was connected to the story.
In an affidavit, the FBI said Winner worked for Pluribus International Corporation, a contractor for the National Security Agency, in Augusta, Georgia.
CNN reported that Winner, who had worked at a government facility outside Augusta since Feb. 13, had top secret security clearance. Her mother told the outlet that Winner served as a linguist in the Air Force and speaks Pashto, Farsi and Dari.
Winner's mother told CNN her daughter was not "especially political," but on Facebook she expressed opposition to the controversial Dakota Access Pipeline and President Trump's proposed border wall, according to Fox News.
The NSA report leaked to the Intercept describes a plan by Russian hackers to compromise local elections officials in the U.S. by tricking them into opening emails from what appeared to be an election software company — a tactic called "spear-phishing." In August, the Russians used the same tactic to successfully gain access to VR Systems, a Florida-based voting software company, by posing as Google employees, according to the outlet.
According to the leaked report, the NSA wasn't sure if the hackers' eventual goal of gaining access to local election officials' computers was successful, the Intercept reported.
Correction: June 6, 2017