Karen Pence does her part for the environment by introducing 20,000 bees to VP's home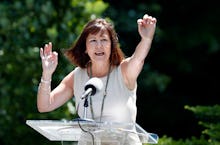 Karen Pence, the second lady of the United States, just proved she still loves the environment, despite President Donald Trump's decision to leave the historic Paris climate agreement.
On Tuesday, Pence introduced around 20,000 bees at the vice president's residence. In a speech to select guests, including representatives from the American Beekeeping Federation, Agriculture Secretary Sonny Perdue and the Almond Board, Pence explained "I know honeybees and the critical role they play in our country's agriculture is just as important to you as it is to me," CNN reported.
Notably, Pence explained that bees and other pollinators like bats and birds add $15 billion in crop value per year to the U.S. economy. "One out of three bites of food taken in this country are made possible with the help of pollinators," Pence said adding, "I mean, I've learned so much about bees in the last four years," according to CNN. Pence added a stark warning to her speech, explaining that the shrinking bee population "presents a serious challenge to our ability to produce many of the agricultural products that we enjoy today," Time noted.
Scientists are in agreement with Pence's assessment: According to a February report by the Center for Biological Diversity, among native bee species with sufficient data to assess (1,437), more than half (749) are in decline and nearly one in four species are at increasing risk of extinction.
"And these unique insects, and their pollination services, are vital to the survival of ecosystems. Our lives and culture would be significantly impoverished without these hardworking, underappreciated and declining animals," the study concluded.
According to Time, Pence additionally pleaded with American citizens to help protect the very delicate bee population by planting bee-friendly vegetation, setting up bird baths or even introducing hives into their own backyards.
Pence isn't the first person to introduce bees into political life: Michelle Obama also introduced an estimated 35,000 bees to the White House in 2009, Mashable noted. Today, that hive has grown to more than 70,000, CNN reported.