Are Trump's tweets really undermining his case for the travel ban?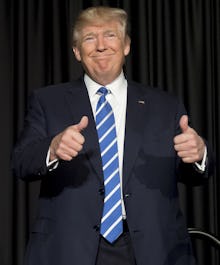 On Monday, President Donald Trump fired off a series of tweets saying the London terror attack showed the necessity of his travel ban, which is currently being blocked by courts. 
Some — including Neal Katyal, the lawyer representing Hawaii in the case challenging Trump's executive order — have suggested the president's tweets are hurting his case as he attempts to get his travel ban reinstated. 
But how does the law view tweets? Can they be used as evidence in court that Trump's executive order is discriminatory, as opponents of the ban have argued? Or should the arguments focus solely on the text of the ban and ignore remarks Trump had made about it on Twitter and at his campaign rallies during the 2016 race, as government lawyers have contended?
Can Trump's tweets really hurt him in court?
To some extent, it depends on who you ask.
As Wired reported Thursday, lawyers don't all agree on whether or not tweets can or should be used as evidence of intent in court cases.
James Grimmelmann, a law professor at Cornell Law and Cornell Tech, said in an email that Trump's tweets can be used "just like anything else he says or does" — as long as the courts take into account the nuances of the format.
"A tweet can be used as evidence just like any of the rest," Grimmelmann said. "Of course, a court must take into account the context of the medium and the tone of the specific tweets: it's often informal, the character limit makes it hard to express nuance, and a tweet may make sense only in the context of a specific exchange or in light of a specific meme. But as long as a court doesn't misunderstand a tweet, there's nothing unique about it."
"There is no special rule for tweets, just like there is no special rule for sign language, emoji, whispering or any other form of communication," according to Grimmelmann.
But Craig Engle, founding partner at Arent Fox political law practice in Washington, D.C., said in a phone interview that Trump's tweets should be considered off-hand remarks that are not legal documents and argued that they should not be considered in the travel ban case.
"The document that was on trial was the executive order — not the executive," Engle said.
The courts may feel tweets and public comments Trump has made are relevant to that order, though.
In temporarily blocking the second version of Trump's order, Hawaii Judge Derrick Watson pointed to one of the president's tweets in issuing an opinion that the "executive order was issued with a purpose to disfavor a particular religion."
George Conway, the husband of Kellyanne Conway who withdrew from consideration for a Department of Justice post, criticized Trump's tweets, saying that "tweets on legal matters seriously undermine" the president's case.
Conway may be right: In February, the U.S. Court of Appeals ruling stopping Trump from reinstating his travel ban read that "it is well established that evidence of purpose beyond the face of a challenged law may be considered." As the Washington Post reports, that suggests "Trump's words are fair game for the other side to use as evidence."
"That, ostensibly, means his tweets, too," according to the Post.
Ronn Blitzer, a legal analyst at Lawnewz, wrote Monday that while he believes Trump is "looking out for national security, just in a totally wrong way" with the travel ban, the president's tweet storm on Monday did, indeed, undermine his case.
"When court decisions that ruled against him cite his comments as evidence supporting their positions, it really hurts his case when he repeats and doubles down on those same comments," Blitzer wrote. "Both of the travel bans raised complex legal questions, but these new tweets force me to ask one simple question: What is the president thinking?"