Oculus founder reportedly developing a virtual border wall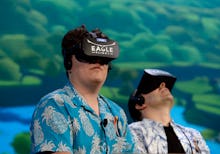 Palmer Freeman Luckey is attempting to make a comeback.
The one-time tech darling made a cool $2 billion in 2014 after selling his startup, Oculus VR, to Facebook. However, as the New York Times reported, Luckey was asked to leave the social media giant just months into his new role after the Daily Best published a piece in September revealing he donated to an organization that spread anti-Hillary Clinton memes.
Following the news of his donation, Luckey posted on Facebook that he was "sorry" the news was hurting his company and noted that he is a libertarian "who has publicly supported Ron Paul and Gary Johnson in the past, and I plan on voting for Gary in this election as well." He added that he donated $10,000 to the organization but that he did not participate in the creation of the company or its propaganda. According to an Oculus spokesperson who spoke with the Times, his exit was not connected to his political views.
After leaving Facebook Luckey donated $100,000 to President Donald Trump's inauguration fund, the Times reported.
Now, the 24-year-old is allegedly attempting to support one of Trump's major campaign promises by developing new surveillance technology to act as a digital border wall. As the Times explained, the company will use technology known as light detection and ranging, or lidar, as well as infrared sensors and cameras to monitor borders for illegal crossings. The technology, the Independent noted, could also be used at military bases or for added security at public events. According to the Times, the company has already hired a few people to work on the project, including Chris Dycus, the first employee at Oculus.
In an email to the Times, Luckey stopped short of confirming the project but did hint at more to come. "We are spending more than ever on defense technology, yet the pace of innovation has been slowing for decades," he wrote. "We need a new kind of defense company, one that will save taxpayer dollars while creating superior technology to keep our troops and citizens safer."
As the Independent noted, Luckey is self-funding the project as of now, though Peter Thiel, another well-known Trump supporter, is reportedly in talks to invest in the project soon.