'League of Legends' Missions: What to expect from the Order and Chaos event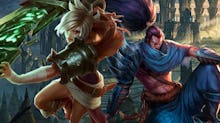 League of Legends is welcoming its newest Missions mode in time for the next patch, and to start things off proper Riot Games will introduce the Order and Chaos event. Missions will be adding special objectives that you can complete by playing games, such as reaching a specific rank as one specific champion or amassing a set level of gold. In return, you'll earn special rewards: icons, skins and other awesome stuff that will make it all worth your while. 
League of Legends Missions: Order and Chaos event
The Missions update will arrive with the next patch — patch 7.12 — and the Order and Chaos event will be available then as well. It will offer several new Missions themed to the event, and players will be able to snap up loot like Nightbringer Yasuo skins and Dawnbringer Riven skins. There's also a new selection of special emotes and loading screen borders, which is an interesting addition as they've not been available as rewards from playing in ranked games before. 
Unfortunately, patch 7.12 isn't going to be dropping for another few weeks, but when it does land, it will be up in the League of Legends Public Beta Environment over the next few days for eager players to get an early start. If you're interested in checking out the upcoming Missions mode, you'll want to hop on that pretty soon to see what's on offer.
Check out more video game content on Mic. Including which Pokémon are actually the best and why black players can never seem to get custom characters that look like them. Learn more about how blind gamers are getting in on the fun. Don't miss our guide to dodging blue shells in the Mario Kart 8 Deluxe — you can thank us later.