What time is James Comey's testimony? Here's how to watch the former FBI chief's Senate hearing.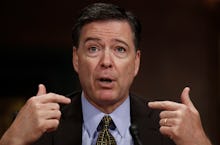 All eyes will be on former FBI director James Comey at 10 a.m. Thursday as the man President Donald Trump fired and later threatened in May testifies before the Senate Intelligence Committee.
C-Span will air the event, which will also be live-streamed by several media outlets, including PBS, which you can watch below.
President Trump shocked the political world again on May 9 when he fired Comey, allegedly because Comey was investigating Trump.
Comey was at a speaking event in Los Angeles and thought he was being pranked when media reports came in announcing his firing, which was preceded by a letter to Trump from Attorney General Jeff Sessions, declaring Comey unfit to do his job.
"While I greatly appreciate you informing me on, three separate occasions, that I was not under investigation," Trump wrote, "I nevertheless concur with the judgment of the Department of Justice that you are not able to effectively lead the Bureau."
Comey is expected to refute Trump's claims during his testimony on Thursday. He's also expected to confirm whether or not Trump tried to dissuade him from investigating former National Security Advisor Michael Flynn, who allegedly lied to the White House about meeting with Russian officials before the president took office.
On May 12, Trump threatened Comey to watch what he tells the public.
CNN reports Comey's testimony could be pivotal in proving whether or not Trump broke the law during his interactions with the FBI director and tried to sweep the Russian investigation under the rug by firing him.
Trump praised Comey eight months ago, after the former FBI director announced he was re-opening his investigation into Hillary Clinton's email scandal, citing new evidence as the impetus.
"I have to give the FBI credit," Trump said on Oct. 31. "It took guts for Director Comey to make the move that he made in light of the kind of opposition he had where they're trying to protect her from criminal prosecution. You know that. It took a lot of guts."