'Tekken 7' Xiaoyu Combos: Learn the moves and Rage Arts of the martial arts master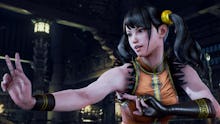 Tekken 7 is a colorful fighter rife with different combatants. It might not be the best game to offer to newbie-fighting game fans, but it's got a lot of potential for seasoned veterans. Even vets need some help sometimes, however, and even if you follow our tips and tricks for starting Tekken 7, you might find that you still need assistance with a certain character. 
If you've perused our extensive Tekken 7 character roster and Ling Xiaoyu is your favorite fighter, you'll likely need some assistance learning about her best moves and the combos that work for her. Here are some helpful hints on how you can play your best game as Xiaoyu in the future. 
Tekken 7 Xiaoyu combos: Learning how to play as the Chinese martial arts specialist 
Like all the rest of the Tekken 7 characters, you'll want to practice with Xiaoyu to get the most out of her as a fighter. Practice makes perfect, they say. So if you want to come out on top, make sure to take some time out and practice with Tekken's dedicated mode where you can assign AI characters to duke it out with. 
This way you'll be walloping enemies while learning. Make sure to consult Tekken Gamer's extensive movelists for each character, too, Xiaoyu included. It may take a while to get the moves down, but you can start learning them if you have them at your fingertips. 
Alternatively, if you're someone who learns by watching, check out this video movelist on YouTube, where you can see Xiaoyu busting combos out left and right. 
With these resources, you should have no trouble getting acquainted with Xiaoyu's play style and all of the moves unique to her. You may have just found a new Tekken favorite. 
More gaming news and updates
Check out the latest from Mic, like this essay about the sinister, subtle evils lurking in rural America that Far Cry 5 shouldn't ignore. Also, be sure to read our review of Tekken 7, an article about the influence of D.Va on one Overwatch player's ideas about femininity and an analysis of gaming's racist habit of darkening villains' skin tones.