How Vanita Gupta became the DOJ's unsung hero at the height of the Black Lives Matter movement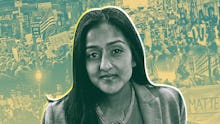 One of Vanita Gupta's earliest memories involved what some might consider a hate crime.
Gupta was born in Philadelphia in the mid-1970s to immigrants from India. Before her fifth birthday, Gupta's parents had temporarily plucked her and an older sister out of the City of Brotherly Love, so their father could take a job in the U.K.
They arrived in England shortly after the election of Prime Minister Margaret Thatcher, who had exploited Britons' fear of immigrants in her rise to power. England's racist skinhead movement was surging.
"There were skinheads sitting next to us [at a McDonald's] and sort of flicking french fries at me and my grandmother and my mom and sister," Gupta recently said in a sit-down interview with Mic. "They were yelling at us, 'Go home Pakis! Get out of this country!'" Gupta recalled. "Paki" is a slur against South Asians.
More than 35 years later, Gupta has embarked on a career as a civil rights lawyer in the United States, has overseen racial justice cases at the NAACP Legal Defense and Educational Fund and has served as head of the Department of Justice's Civil Rights Division. Her time at the DOJ ended after two years, with the inauguration of President Donald Trump in January. Trump's rise to power has been accompanied by a spike in hatred directed at immigrants and Muslims, including members of Gupta's family in suburban Pennsylvania. Things have come full circle for Gupta, and now she's in a position to be part of the resistance.
"That gives me solace because it means that we're in this temporary period of retrenchment and backlash," Gupta said. "But I also know that there is tremendous harm that gets done. We have to be able to protect our communities and stand up for our values, against all odds."
Trump's presidency and the appointment of a reputably anti-civil rights attorney general, Jeff Sessions, helped to focus Gupta's priorities, as she considered what to do once she left public service. She'd already led investigations into each of the high-profile police shooting cases that have fueled Black Lives Matter protests across the country since 2014, resulting in scathing reports of abuses by officers in Ferguson, Missouri, Baltimore and Chicago, and court-enforced reform agreements. Gupta also helped fend off suppression of the minority vote in Texas ahead of the 2016 presidential election, and stood up for transgender students whose access to bathrooms became a hot-debated topic in several states.
"As a civil rights lawyer, when you are watching the degradation of communities that are vulnerable and marginalized, you don't actually feel like you have that much of a choice but to fight back."
Now, Gupta is leveraging her experience at the DOJ as the new president and CEO of the Leadership Conference on Civil and Human Rights, the nation's largest coalition of legacy and grassroots social justice groups. Criminal justice reform, voting rights and the protection of immigrants are top of mind as she settles into the new role, Gupta said in an interview at the Leadership Conference's Washington, D.C., office. The work will happen in the face of an across-the-board and unprecedented rollback on civil rights, police reform and LGBTQ protections, which are maintained by the DOJ office that Gupta once led.
"It was just this parade of things, all of which were totally predictable, [that] made me realize that I wasn't ready to take a back seat and watch this happen," Gupta said of her decision to join the Leadership Conference. "As a civil rights lawyer, when you are watching the degradation of communities that are vulnerable and marginalized, you don't actually feel like you have that much of a choice but to fight back."
The Leadership Conference, founded in 1950, is made up of the more than 200 civil and human rights organizations, including the NAACP, the American Civil Liberties Union, the National Council of La Raza and the Matthew Shepard Foundation, an LGBT rights nonprofit. The coalition had a hand in pushing historic civil rights legislative victories, among them the Voting Rights Act of 1965 and the Fair Housing Act of 1968. More recently, the coalition successfully pushed Congress to expand protections for LGBTQ people and students in the 2013 reauthorization of the Violence Against Women Act. It also urged the Federal Communications Commission to curb abusive inmate phone rates in prisons.
Gupta, whose personal background puts her at the intersection of the immigrant rights and racial justice movements, is breaking ground as the first woman and the first daughter of immigrants to head the Leadership Conference. And she has a broad mandate within the coalition and glowing support from former colleagues, who told Mic they see Gupta as her generation's pre-eminent voice of authority on civil rights issues.
"Vanita is a civil and human rights leader for our time," Wade Henderson, a veteran civil rights leader who had been the Leadership Conference president and CEO since 1996, said in a phone interview. "Her strategic thinking, her ability to conceptualize strategies and her natural tendencies to reach across party lines makes her one of the best around."
Henderson said he will serve as a senior adviser to Gupta, who stepped into the role on June 1.
A national reckoning with policing
Former President Barack Obama appointed Gupta the principal deputy assistant attorney general in the Civil Rights Division in October 2014. Within days, she was briefed about an investigation into the police shooting death of Michael Brown, the unarmed black teen killed by a white officer in Ferguson, Missouri, that summer.
Gupta took meetings with activists, elected officials, residents and police groups. There were times that she was speaking weekly with leaders of the Fraternal Order of Police, which had voiced its opposition to the growing scrutiny of the law enforcement profession.
Amid protests and civil unrest in the St. Louis suburb, Gupta was suddenly in charge of that highly visible investigation, in addition to overseeing the day-to-day work of more than 680 civil servants in the division. But policing issues quickly dominated her DOJ work, Gupta said.
"It felt like almost weekly, there was another video of officer-involved violence or an incident that was going viral and demanding Justice Department attention," she said. "I don't think I could have not predicted the amount of time that those issues ended up taking of the division. But it was really important that we focused on these issues because Ferguson changed the landscape."
Gupta would stand with Attorneys General Eric Holder and Loretta Lynch — and sometime she would stand on her own — to announce the findings of their investigations. In March 2015, the Justice Department declined to press criminal civil rights charges against Darren Wilson, the former Ferguson police officer who killed Brown. But the DOJ sued the city to stop a practice of using its municipal court system to raise money through traffic tickets, petty fines and court fees from the majority-black city's residents.
Brown's case had sparked national conversations around issues of policing, unfair treatment and abuses in communities of color — conversations that were largely urged by BLM movement activists. Gupta credited the activists in Ferguson for prompting an increased federal response to officer-involved deaths.
"The Movement for Black Lives… forced us to sort of reckon with what had been happening in policing around the country," Gupta said. "And I think they also really changed law enforcement."
The DOJ's police pattern and practice investigations in Ferguson, Baltimore and Chicago yielded reports that document local governments' longstanding, unchecked abuse of residents. "I think what we were doing was really validating the experience of communities of color — which they had been living and experiencing for years and, in some cases, for decades," Gupta said.
Right up until she walked out of her office at the DOJ for the last time, Gupta had negotiated dozens of police reform agreements, also known as consent decrees. Ferguson and Baltimore are now under court-enforced decrees.
Brushing off Jeff Sessions' "political bluster"
Lately, reflecting on her work at the DOJ is painful, Gupta said. In April, Sessions ordered a review of all previously negotiated police reform agreements. Sessions also tried to dismiss Gupta's meticulous work on the policing reports.
"Some of it was pretty anecdotal and not so scientifically based," Sessions told reporters in February, after also acknowledging he'd only skimmed summaries of the Chicago and Ferguson reports.
"When Attorney General Jeff Sessions said all that and admitted that he hadn't read the reports, it was very clear to those of us who had been so invested in this whole thing that he did not understand the policing work that the Civil Rights Division has been doing," Gupta said. "A lot of it felt like political bluster."
Congress mandated in 1994 that it is the job of the Justice Department to ensure no police department is engaged in widespread unconstitutional policing. The DOJ must also punish individual officers who violate civil rights, as it had done with the Walter Scott case in North Charleston, South Carolina.
Policing reform and consent decrees are just one element of Gupta's work that Sessions has attacked. In February, he withdrew an Obama administration memo urging public schools to provide bathroom and locker room facilities to transgender students. The DOJ has also backed off a lawsuit against North Carolina's HB 2 legislation that restricted public bathroom access to an individual's sex at birth and changed its position in the lawsuit against Texas' voter ID law that courts found discriminated against black voters.
This all-out assault on civil rights is more than enough to keep Gupta busy at the Leadership Conference, well into the first four years of Trump's presidency, she said. And Gupta is more than prepared for this moment, according to her former colleagues.
A life of battling racial injustice
Gupta is an alumna of Yale University and finished law school at the New York University School of Law in 2001. She soon joined the NAACP Legal Defense and Educational Fund as assistant counsel. At 28, Gupta was nationally recognized as the lead attorney on a racial injustice case out of Tulia, Texas, where black defendants had been convicted on drug charges through the flimsy testimony of an undercover police officer. In 2003, a judge overturned the convictions of dozens of African-Americans. Gupta helped to win a $6 million settlement for those who had been jailed.
In a recent phone interview, Anthony Romero, the executive director of the ACLU, said the Tulia victory was how Gupta caught the organization's attention. "I kept reading about this young lawyer at the NAACP LDF doing work in Tulia, Texas," Romero said. "And I kept thinking, 'Why isn't she working for me?'"
Gupta joined the ACLU in 2007, was promoted to deputy legal director after a couple of years and oversaw the organization's criminal justice reform work. "She's a leader that's once in a generation, and she's ready for prime time right now," Romero said.
Gupta said she was ready to join the Leadership Conference when, just days after Trump's inauguration in January, the president signed an executive order banning people from seven majority-Muslim nations from traveling to the United States. "In a real and visceral way, suddenly, [Trump's] rhetoric was real because of the ban," she said.
Gupta remembers quickly considering what options she had to fight back. Seeing the images of private citizens rushing to airports, filing court motions and protesting in the streets helped to make up her mind.
"I've spent my whole life working on racial justice issues," Gupta said. "But this is, in some ways, a great time to be a civil rights lawyer, as crazy as that sounds, because there is nothing like a crisis to focus one's mind and one's purpose. That's where we are right now and we have a lot of work to do."